What Car Does Holly Willoughby Drive
Having first entered the world of showbiz at just 14-years-old, Holly Willoughby has been on our screens for as long as we can remember. From S Club 7 to This Morning and Dancing on Ice, the presenter has stolen the hearts of the nation with her warm and bubbly personality and winning smile. And in the process, the mainstream TV queen 👑 , accomplished model and author has also racked up an impressive net worth of £10 million, which led us to wonder: What car does Holly Willoughby drive?

If you've also been questioning how the blonde bombshell gets from A to B, then you're in for a real treat. To save you from doing the legwork, Carmoola has done some research into the star's cars, and let's just say, without giving too much away, we think you're going to be very impressed...
Nothing Beats A Merc
With a long-standing reputation for developing some of the most advanced, stylish and visionary vehicles on the market, it's perhaps no wonder that Mercedes-Benz has remained as prevalent as it has since the brand's inception in 1926 - especially among the rich and famous. And like many of our favourite stars, it seems that our girl, Holly Willoughby, has also been bitten by the Mercedes-Benz bug 🐞 . You'll see what we mean soon enough!
Mercedes-Benz G-Class
Igniting her love of Mercs, the high-profile TV presenter spent an eye-watering £88k on an iconic Mercedes-Benz G-Class back in 2016. Famous for its big and boxy Hummer-like appearance, this military-grade vehicle has become a modern-day symbol of wealth, status and success, making it a popular choice among fellow celebs, including the Kardashian sisters, Nick Grimshaw, Tommy Fury and many more. So, it's unsurprising to us that good ol' Holly Willoughby was desperate to get in on the action, too.
But have you ever wondered why the Mercedes G-Class is such a standout option? Well, wonder no more.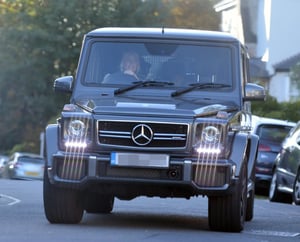 Looks aside, there's a combination of different factors that have led to the unyielding triumph of this model. For starters, the G-Series is the longest-running line in the Mercedes-Benz collection, which, paired with its powerful, high-spec and purpose-built design, makes this high-end SUV arguably one of the most reliable motors made by Mercedes.
With a twin-turbocharged 4.0 litre engine and a 416 horsepower rating, though, it's certainly not built for economy, that's for sure. But this impressive 4x4 can power through the most challenging terrain and weather conditions, making it the perfect set of wheels for off-road driving adventures ⛰️ .
Mercedes-AMG G63
Holly loved her G-Wagon so much that when it came time for an upgrade in 2019, she boosted for the new and improved model: the Mercedes-AMG G63.
Now, for us, regular Joe's, this awe-inspiring SUV is well out of budget, but Holly had no trouble dropping a whopping £143,370 on this opulent motor after receiving a big fat bonus cheque from her This Morning gig 🤑 . Oh, to be rich...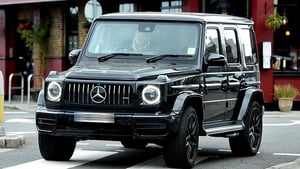 Like its predecessor, the AMG G63 boasts a hardy bulletproof exterior. But don't let the bulky and domineering appearance fool you - its a lot more agile than it looks. Despite weighing 2,550kg (FYI, that's roughly as heavy as 5 fully-grown grizzly bears 🐻 ), this motor has the capacity to reach top speeds of 130mph in less than 30 seconds, which is extraordinarily impressive for its size.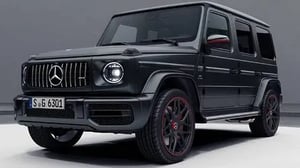 As is also the case with its ancestors, this G-Series is an absolute beast on the roads. So whether you're looking for something stylish to nip to the local supermarket in, or a robust SUV to take you cross-country, you're sure to be impressed by G63.
But it's not just the lux looks and unmatched road performance that have got us swooning. With its supple quilted leather seating and a user-friendly infotainment system, the inside is as lavish as you might expect for the price tag. Plus, it comes kitted out with all the latest mod cons and features to make your driving experience as smooth and enjoyable as possible. We can see why Holly was a fan!
Electric Mercedes-Benz EQC
As much as big cars match her big personality, Holly recently decided it was time to start doing her bit for the environment. And so, in 2020, at the request of her children, who are said to be very concerned about the threat of climate change, the star decided to put the planet 🌍 first by trading in her petrol-guzzling G-Wagon for a more sustainable and environmentally-friendly vehicle option.
The car she picked out was - yes, you guessed it - yet another Mercedes-Benz! Only, this time, she chose the fully-electric EQC model, which comes in at around £65,000.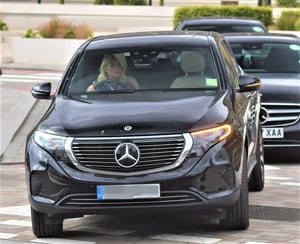 While not quite as imposing or as flashy as her former motors, the distinctive appearance of this streamlined 4x4 still demands attention and fits Holly's vehicle preferences to a tee. What's more, the EQC expertly blends all the qualities, conveniences and features that you would expect from a standard SUV with the significant benefits that can only be found in electric vehicles.
This means that on top of being roomy enough for the whole family to fit comfortably, the EQC produces zero CO2 emissions and takes just 40 minutes to charge fully.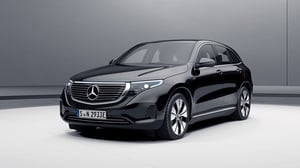 As a mum of three, Holly is also bound to appreciate the enhanced safety features that Mercedes has incorporated into the car's driver assistance system. In the event of an emergency, these will kick in, and the motor will automatically respond to the driver's surroundings. But they will also help to avoid any potential road dangers, too. On top of all that, the Mercedes EQC includes cameras with full 360° coverage, which makes parking a total breeze 🍃 .
What Car Will Holly Willoughby Pick Next?
It's been over two years now since Holly splashed out on her Mercedes EQC, and we all know what that means, right? Yes, it won't be too long before she's itching for an upgrade...
Holly, if you're reading this, Carmoola is already one step ahead of you, and we think you'll be a big fan of the choices we have picked out on your behalf. So, without further ado, let's take quick a look at them, shall we?
Mercedes-Benz EQS
Perhaps the most obvious choice for Holly's next car (in our minds, at least) is the Mercedes-Benz EQS. As the next step up from the EQC, this gorgeous coupé design seems to have everything going in its favour. In fact, in the words of Mercedes-Benz themselves, the EQS is said to be the future of electric luxury. And at that, as you might have already guessed - with it being the epitome of luxury and all - this slick set of wheels definitely doesn't come cheap.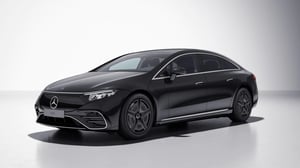 Prices for this model start at the jaw-dropping figure of £102,160, but having spent quite a bit more than that on her last G-Wagon, we all know Holly's good for it 💰 . Although at that cost, we know that you will no doubt be expecting something spectacular from the EQS. Don't worry; it delivers!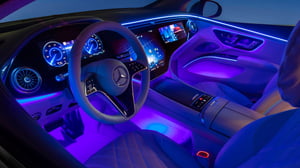 Developed for those with very deep pockets, like our gal Holly, the EQS merges the charm and lavish looks that are traditionally associated with the Mercedes brand with all-new cutting-edge technology, a tasteful leather and an unpolished wood interior that boasts a trio of digital displays, and a head-turning exterior. But beyond its incredible looks, the EQC holds its own as a practical, performance-driven electric vehicle with specs that rival even those offered by the likes of Tesla, Audi and Porsche.
As if that wasn't impressive enough, Mercedes has even managed to cut the required charging time of this model by 25%, with each full charge boasting a range of up to 453 miles.
Mercedes-Benz EQG
Another car that we know Holly will definitely have her sights set on in the near future is the Mercedes-Benz EQG. For now, this motor is still in the concept phase, but Mercedes' plans to release an all-electric version of their legendary G-Wagon is very real - and it could be available to purchase as soon as 2024. So, watch this space.


So far, Mercedes has revealed that the EQG will come suited and booted with all the essentials, such as a new two-speed gearbox and improved rear axle, which will make this model just as capable of tackling tough terrain as the original G-Class design. Mercedes also plans to feature a massive 56-inch display as part of the infotainment system, and the iconic auxiliary lights will instead be replaced by LED strips along the roof and sides.


A set cost hasn't yet been released by Mercedes, but ballpark figures provided by the brand suggest that this motor could fall into the £150k range, which shouldn't be a problem for our Holly.
What Car Does Holly Willoughby Drive?
We've had our say, and now it's time for you to have yours. Use the comments section below to let us know what you think of Holly Willoughby's cars and, more importantly, what you think she'll be driving next 🚘 .