What Car Does Alex From Love Island Drive?
To paraphrase Forrest Gump, you can tell a lot about a person by what car they drive. Where they're going, where they've been, how much moola they have in their bank account - that kind of thing. And, in the instance of 27-year-old Alex George, you know, the heartthrob A&E doctor from Love Island's fourth series, his expensive collection tells us that (1) he really, really likes cars, and (2) he's rolling in dough! 💸
As a healthcare hero by day and, er, night, and a YouTube star, Instagram influencer, podcast host, writer and car enthusiast the rest of the time (at least, we think that's everything covered 🤔 ), this Jack of all trades Islander rarely gets a moment of peace. But, when he does, he likes to spend it letting off steam by tearing up Britain's roads in one of his many motors.
While it was never any secret that the good doctor has always been a bit of a gearhead, we never realised quite how far his passion extended until we recently started doing some digging into his garage ourselves. No, not literally. But there's no harm in dreaming...right?
So, What Is Alex From Love Island Driving?
Despite being booted from the villa 57 days into his h̶o̶l̶i̶d̶a̶y̶ search for romance, Dr Alex has done pretty well for himself off the back of Love Island.
Like the rest of his co-stars, he has been bombarded with offers from big-name brands, which, paired with his NHS gig, has helped him to accumulate a healthy net worth of somewhere between £1-5 million. And with that kind of dosh keeping his pockets warm, it's no wonder he's been able to afford such an impressive fleet of cars. So, buckle up your seatbelts, folks, because you're in for a wild ride. Well, as ''wild'' as one can be in a car with the notoriously responsible Al, anyway! I mean, we are still talking about the same guy who took a Ferrari for a crawl.
Audi RS3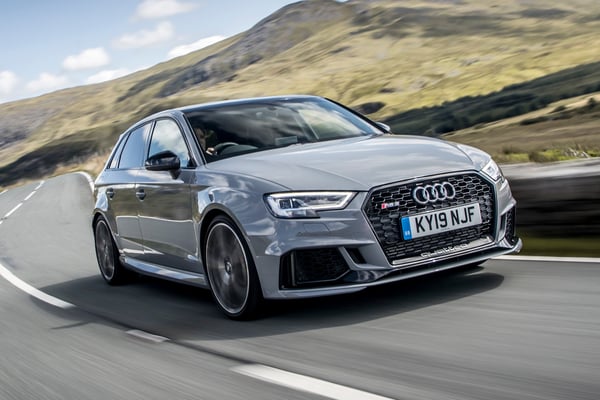 Back in 2016, Alex teased fans with a pic he snapped from inside his Audi RS3, which, as you might recall, is the same model owned by fellow Love Islander Tommy Fury. With its plethora of features and 4-out-of-5-star ratings from leading car review sites, it's not hard to see why this exquisite machine is favoured by vehicle enthusiasts and everyday motorists alike. Brand-new, this head-turning brute will set you back £45,290. But thanks to the second-hand market, you should be able to snap this car up for a bargain price of £15-£30k. With Carmoola on your side, you may be able to break this down into monthly payments of somewhere between £333 to £665. Subject to status and eligibility.
Jaguar F-Type Convertible
A year later, the hunky doctor only went and added a Jaguar F-Type convertible to his collection! We'd be lying if we said we weren't jealous. With a 2.0 litre engine, this brawny sports car was built for speed and agility, two words our boy-racer can't get enough of - just don't expect him to put his foot down, though. Everywhere is a 20-zone when you're Alex George. This extravagant machine cost him an eye-watering £59,980, but if you're willing to take on an older model, you could pay considerably less.
BMW X6M
Nicknamed the Batmobile by our fave dorky doctor, the BMW X6M is a road-ready beast that's surprisingly easy to tame. Despite its imposing stature and powerful engine, this monster vehicle is practical and easy to manage. So, our question to you is this: Can you picture yourself behind the wheel of one of these sporty SUV's? Perhaps, with the windows rolled down and your favourite radio station blaring? Us too! But with an RRP of £59,720, these feisty motors don't come cheap.
Audi R8 V10 Plus
Who else is starting to feel like every day is 'new car day' when Alex George is around? Yes, back in March 2020, he splashed out on yet another luxury sports car! This time, it was the Audi R8 V10 Plus in Riviera Blue. With its streamlined frame and dynamic features, things don't get much better than this, but with a (not so) small fee of £134,500 to pay, this car is definitely not geared towards us regular Joe's. Have you ever seen our lad so happy, though? Bless him.
Mercedes C63S AMG
If there's one thing all Love Islander's have in common, it's their love of AMG's, and after months of mulling it over, Dr Alex joined the rest of the herd by shelling out almost £70k on a slick C63S with a high-gloss finish. This Merc coupe has everything you could want in a car, from lux looks and a comfortable interior to its smooth performance. But if you'd prefer not to cough up close to £100,000 on Alex's chosen model, then Carmoola may be able to help you spread the cost of a similar C Class design - most of which go for between £20-£30k.
Mad About Minis
You might not have taken him for a Mini man, but Dr Alex is a huge fan of this Great British car. So much so, in fact, that he's added two to his personal garage!
Mini Cooper JCW
As far as Mini's go, there's nothing faster or more burly than the JCW. Created by the brand's in-house racing division, this sleek hot hatch boasts a unique combination of characteristics that make it a sublime choice of motor for fledgling drivers and long-time car enthusiasts alike. Its small frame makes it easy to manoeuvre, and with an impressive fuel economy, the JCW is kind on the ol' wallet too.
Mini Cooper S Hardtop Convertible
The Mini Cooper S has all the hallmarks of a great car. And just as you'd expect from this iconic brand, everything is customisable, allowing you to truly express yourself without breaking the bank. The car's stylish interior also comes complete with a large touch-screen SATNAV and radio combo. Plus, on top of all that, it has earned itself a solid 4-star safety rating from the IIHS. Fresh off the showroom floor, the Mini Cooper S will cost you a reasonable £22,430.
Swish Supercars
Now is the moment you've all been waiting for. That's right, it's time to kick things up a gear and unveil the crown jewels of Alex's automobile treasury. Brace yourselves.
Ferrari California T

While slow and steady might win the race, we can't help but feel Alex's snail-pace performance on Love Island was nothing short of an act of cruelty to that car. Kitted out with a soft and supple, tan-coloured Italian leather interior to complement the iconic red paintwork, the Ferrari California T is an undeniably beautiful automobile. And, true to its reputation, this fiery road demon can reach top speeds of 196mph. So, what we're trying to say is, don't be afraid to go above 10mph Alex, hun.
Lamborghini Huracan
Before today, you probably wouldn't have guessed that Blac Chyna, Conor McGregor and our very own, Dr Alex George, would have something in common, but here we are. All three stars are known for owning this lush Lambo - because nothing screams luxury quite like a £170,000 motor, right? And while the six-figure price tag of the Lamborghini Huracan renders this class car an unobtainable pipe dream for most of us, we can still enjoy the jaw-dropping elements that make this supercar what it is.
Alex George's Quick Spins
The Doc might have a whole army of cars at his disposal and enough cash in his bank to splash out on a new model every week if he wanted to, but he's certainly not going to let that stop him from borrowing top-brand vehicles...
BMW X4
Can you imagine taking a BMW X4 for a spin, let alone getting paid the big bucks to do it? Well, if you're Alex George, you won't need to use your imagination. Thanks to his brand partnership with BMW, he knows exactly what it's like to be behind the wheel of one of these beauties! In 2018, the dealership loaned the £44,000 car to the Love Island star for 24-hours, and we gawped as he posed with it on the coast.
Jaguar F-Type R Dynamic
Looks like it's not just BMW who have taken a liking to this reality TV celeb. In December 2018, his local Jaguar showroom loaned him an F-Type R Dynamic Coupe for the Christmas period. Worth a whopping £55.6k straight out of the dealership, this luxury sports car is a far cry from your everyday errand collector or school-run wagon. Oh, to be on Jaguar's nice list...
BMW M5
Looking for a car with attitude? Say no more! Pairing its 617 horsepower 4.4L engine and twin turbocharger boost with a sturdy SUV design that's both spacious and comfortable inside, the BMW M5 offers a stunning blend of practicality and showmanship that we never knew we needed. And though you wouldn't think it when you look at it, this car can reach top speeds of 163mph.
Alex's Ever-Growing Car Collection
It's been quite the journey, to say the least, but we've finally reached the end of Dr Alex's extensive car collection - though something tells us, it won't be too long before he posts a new car reveal. Do you think you know what the next motor on his wish list is? Hedge your bets below! Also, want to know what cars Maura Higgins drive? Be sure to check out this article!