Love Island Stars and Their Cars
Hands up if you're a fan of Love Island. Oh, look at that – hands up everywhere. Who doesn't love a show where ridiculously good-looking people are put into a house together and expected to get up to questionable antics - find love in a, erm, hopeless place? But enough about the smooching and the other stuff. What you really want to know is which motors the cast members drive. And we're here to tell you with our deep dive into Love Island stars and their cars.
Can't wait to read it all? Check out Kathryn as she does a deep dive into the Love Islander's cars on our YouTube video 👇
Dr Alex, Ferrari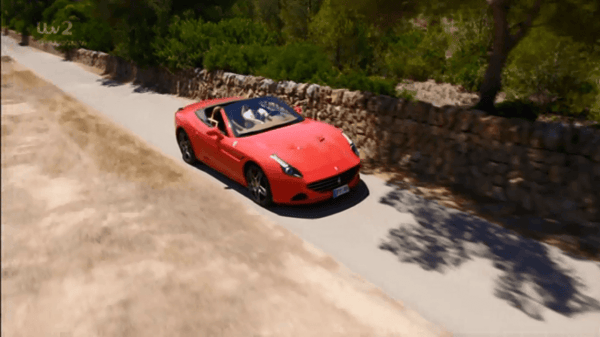 A doctor who also happens to be rich, you say? This one's a keeper, as long as you don't mind tolerating Dr Alex driving the flashiest of flashy cars. That's right; the good doctor has been spotted behind the wheel of a Ferrari, which doesn't exactly lend itself to subtlety. Still, being a responsible doctor, ol' Al was seen driving it at a snail's pace around Mallorca. Not so fast or furious.
A certain Ms Attwood was busy capturing all of our attention on Love Island. But more recently, she's traded the glam of the island house for the grey skies of the UK, which she zips around in driving a Mercedes Benz. There's nothing quite like German efficiency, and a Benz will give you the guarantee of a safe car while looking super-stylish. So stylish, in fact, that a couple of pesky burglars decided to steal two of her luxury Benz's right from her driveway. We're not impressed, and neither was she.
Michael Griffiths, Mercedes Benz GLE
Michael Griffiths has had a bit more luck with his Benz. The Islander has been spotted driving a seriously lux Mercedes Benz GLE Coupe. Described as a sports car that meets off-road capability, the GLE is so much more than just looks. With 194 hp and an AMG edition, it's easy to see why this car has caught the eye of Love Islanders.
Amy Hart, Range Rover
Who's got the keys to the Range? Amy, that's who. Ms Hart knows a plush car when she sees one, opting to buy a classy Range Rover to get her around. She even gave a shout out to a luxury car detailer on her Instagram account, thanking them for getting her Range spic and span. Where she was driving to get it so muddy, nobody knows. But if you can't let loose in a Range Rover, what can you do?
Anna Vakili, Mercedes G Class
The Islanders are clearly about that Benz life. Contestant Anna Vakili ramped up the style with a Mercedes G Class, a Merc that was initially made popular by a certain Kim Kardashian. Perhaps as Ms Vikalli drives around in the lux car, she'll spare a thought for Love Island favourite Molly-Mae, who has only just passed her driving test and most probably has a lot to learn. It'll come, Molly. It'll come.
Anton Danyluk, Porsche Cayman
Anton Danyluk is a gym owner from Airdrie who lit up our screens on Love Island and is now helping people get in tip-top shape. And it looks like he's put his Love Island and business earnings to good use by splashing out on a Porsche Cayman. It really is a top choice, Anton. You can't beat style and class, and a Porsche Cayman has both in abundance.
Tommy Fury, Mercedes AMG
Oh, look, it's another Benz. Mr Tommy Fury might be spending his time getting ready for a round or two of professional boxing, but he's taken the time out to enjoy his impressive Mercedes AMG. As far as top line of Mercs go, you really can't beat an AMG. And, Tommy, if you're reading, use the contact us form to get in touch so we can have a test drive. 👍
Jordan Hames, Renault ZE Masters
Ok, so we're quite sure that Jordan Hames doesn't roll around in a Renault ZE Masters every day. But his Instagram account does have him flaunting his stuff in front of a DHL van, which just so happens to be a Renault. And, look, we don't know for sure that Jordan hasn't taken up👍 a second job for the lols, making sure people get their parcels while getting behind the wheel of a DHL van. Though our advice would be to look a bit happier while you're doing it, Jordan, mate.
Love Thy Car
These Love Islanders know a thing or two about flashy cars and, at the very least, act as inspiration for us to hit the gym and train ridiculously hard for six months to try and get on the new series of Love Island so we can earn a ton of money and buy a snazzy vehicle like Maura Higgins and her BMW 3 Series 320d. You can do it guys! 🚘😍