The Best Car Adverts of All Time That We Just Love
Car adverts seem to capture the imagination like no other, whether it's a Mini Adventure or finding out about the latest Vorsprung durch Technik. But which car advertisements are the best of all time? We've looked back through history to bring you a handful of ads that went against the norm and have gone on to cement their place in automotive history.
Jaguar: V12
Jaguar founder Williams Lyons transferred motorsport success into the consumer world of car buying. And the advert captured the imagination perfectly, highlighting how the winning car of Le Mans used the same V12 engine as its consumer models, such as the XJ-SC Cabriolet and the XJ-S. As you can see in the 1980s ad below, it's all about the V.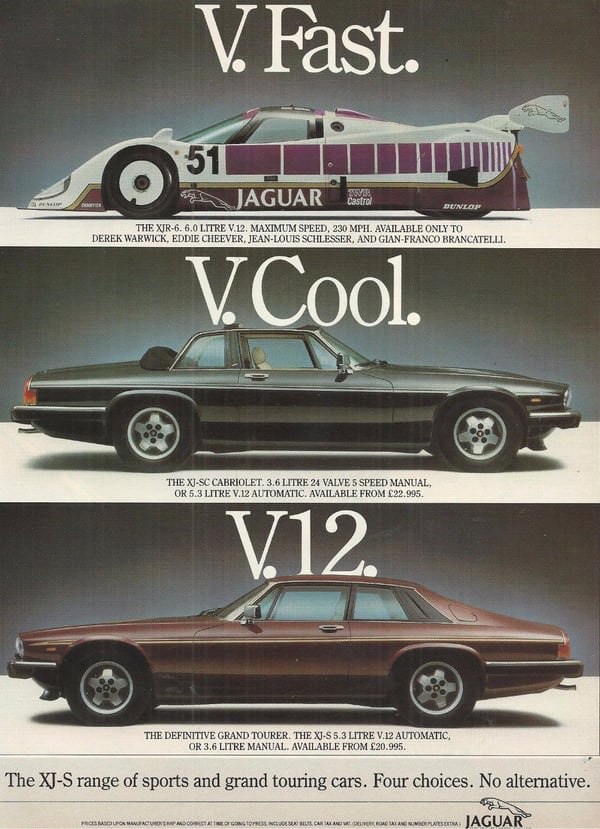 Mercedes-Benz "Chicken"
Some ads capture emotions with empathy, while others are humorous. Then there are those that are just batshi*t crazy. Enter Mercedes-Benz with its Chicken advert. There's not much point trying to explain this one. Just sit back and watch the absurd.
Honda Accord, Cog
Honda's "cog" advert might just be the greatest car commercial of all time, and it's got countless awards to back it up. What starts with a simple cog rolling onto another cog evolves into a series of car parts knocking, bumping and falling into each other until the new Accord rolls off a platform. As the strap line says, "isn't it nice when things just work?".
Audi, Birth
Right, so watching an Audi R8 give birth to an RS 3 Sportsback might sound wrong, disturbing and just plain weird, but it is different – and there's an epic soundtrack to boot. The abstract ad dared to be different during when car adverts are becoming harder to differentiate – you know the ones, car drives around bends in a mountain near the Alps. Watch something a little different below.
sCitroën 2CV
If you can't beat the best cars in the world with performance, then why not get people's attention by using humour? That's what Citroen did, with its tongue-in-cheek magazine ad comparing its 2CV against some of the best carmakers in the world, such as Ferrari, Porsche and Rolls Royce. It worked a treat, as long as the Ferrari Mondial doesn't decide to go over 71.5 mph per hour, that is.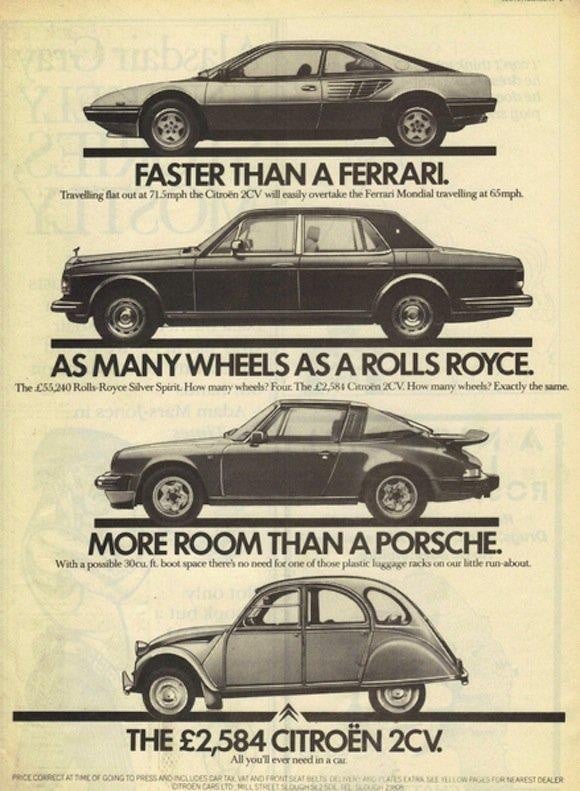 Land Rover Discovery 4
Have you been anywhere interesting lately? That's what the Land Rover Discovery 4 asks while showcasing all the great adventures you can have behind the wheel. Only, it doesn't show it through stylish shots of a car driving through all different types of terrain. Instead, it uses a much cleverer way...
Renault Clio, Papa Nicole
The iconic "Papa Nicole" advert from Renault Clio follows Nicole and her papa, focusing on Nicole's escapades and her one-step-ahead dad. It was the most successful British car advert ever and even featured a concluding video, which was viewed by 23 million people in the 90s, tying all the ads together. The only thing left to say is, "Nicole", "Papa!".
Skoda, Cake Car
Playing the iconic song, "These are a few of my favourite things" by Julie Andrews, Skoda's Cake Car advert will leave your mouth watering, and you won't be sure if you want to buy the latest Skoda or order Deliveroo. Either way, this offering from Skoda cooks up a visual delight with its baked-goods-turned-car advert.
Volkswagen, The Force
If you're looking for an adorable car advert, then look no further than Volkswagen's The Force. It pays homage to Star Wars and sees a little kid amazed by his dad's seemingly Jedi powers. Of course, it's the car doing all the heavy lifting. This is a great advert that will be with you for a long time – just like The Force.
BMW, Fastest
The BMW M5 was the fastest sedan in the world at the time, and this advert perfectly encapsulates the need for speed. Prepare to feel the G-Force with a commercial that'll make it seem like you're hurtling along at 100-plus mph.
The best car ads of all time
Over the years, we've been treated to car adverts ranging from spectacular to mundane. But the options on our list have found a way to delight, either through their cleverness or humour. So scroll up, watch them again and enjoy.