Our Favourite On-Screen Detectives and the Cars They Drive
If there's one thing that we love just as much as a good crime drama, it's the iconic cars that often accompany our favourite on-screen detectives. From classic muscle cars to sleek, high-performance vehicles - the cars driven by our favourite detectives have become just as iconic as the characters themselves.
Whether you're a fan of classic detective shows or the latest crime dramas, the cars driven by the main characters have become an integral part of the viewing experience. In this blog post, we'll be taking a look at some of our favourite on-screen detectives and the cars they drive. From Inspector Morse's trusty Jaguar to the surprising Land Rover Defender featured in Sherlock Holmes, we'll be exploring the unique personalities and driving styles of some of our favourite on-screen detectives.
Inspector Morse – Jaguar Mark 2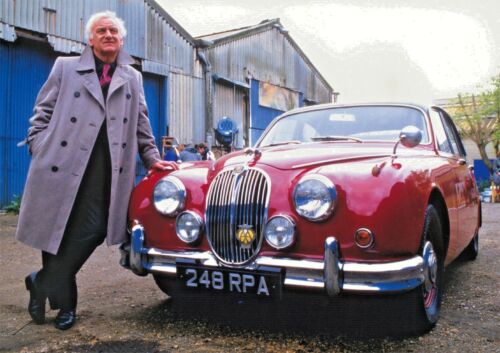 It was in 1987 that Detective Inspector Endeavour Morse first made his mark on British television screens. Played to perfection by the late, great John Thaw, Morse was a no-nonsense, classical music-loving British detective who quickly became a beloved character for viewers across the country. As he roamed the streets of Oxford, solving countless mysterious cases of murder and theft, one thing was always by his side: his trusty Jaguar Mark II.
This iconic British car was a perfect match for Morse, reflecting his unapologetically British sensibility and classic style. With its sleek lines and timeless design, the Jaguar Mark II became an essential part of the show's aesthetic, as much a part of the character's identity as his trench coat or signature drink. For fans of the show, the car has become just as much of an icon as the man who drove it.
For classic car enthusiasts, few models are more beloved than the Jaguar Mark II. Despite the rising value of these vehicles (with prices ranging from £30,000 to £50,000 at the time of writing), they remain as sought-after as ever, admired for their sleek design and engineering excellence. It's no surprise that the Mark II is widely regarded as one of Jaguar's finest achievements.
Check out our blog highlighting our favourite jaguars in more recent years to hit the market.
Detective Sergeant Steve Arnott – Volvo S60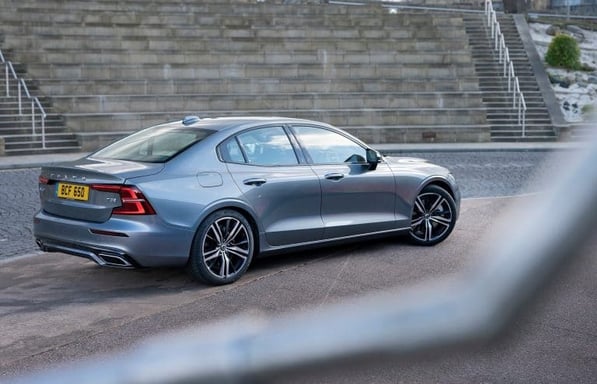 Not all detectives drive around in regal classics or jaw-dropping sports-cars. In the hugely popular crime drama, Line of Duty, Steve Arnott (played by Martin Compton) is always on the lookout for "bent coppers." When it comes to tracking down these nefarious lawbreakers, he turns to an unlikely ally: the Volvo S60.
Volvos are known for being safe and practical in the real world, and it turns out they're just as effective in gritty crime dramas too. Detective Steve Arnott uses the S60 to hunt down crooked cops. With its smooth ride and sleek, understated design, the S60 is an excellent choice for blending in and catching criminals by surprise. It may not be as flashy as some of its rivals from BMW or Jaguar, but in the hands of a skilled detective like Arnott, it's a force to be reckoned with.
The S60's sleek and modern design is sure to catch the eye of many potential buyers. Compared to its larger counterpart, the S90 (named one of our best saloon cars), the S60 features a more curvaceous shape with a lower roofline that highlights the iconic Volvo design cues. The exterior isn't the only thing that impresses - step inside and you'll be greeted with Volvo's signature Scandinavian style and a plethora of tech features. With its stunning appearance both inside and out, it's no surprise that the S60 could easily sell on looks alone.
John Luther – Volvo 240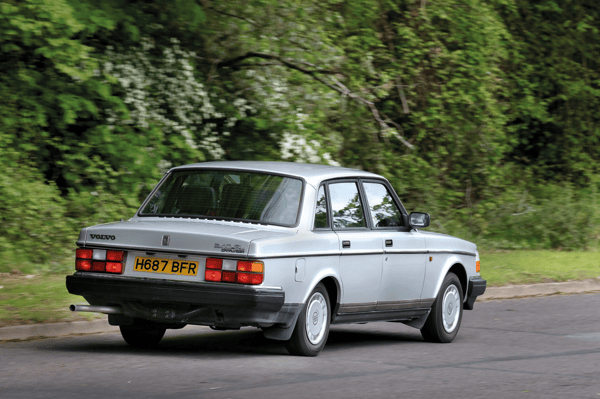 When it comes to iconic on-screen detectives, John Luther is difficult to beat. Played by Idris Elba, Luther is a brilliant yet troubled detective in the BBC's hit series of the same name. But what sets Luther apart from other detectives is his love of Volvos.
Throughout the series, Luther is often seen driving classic Volvo models, which have become somewhat of a trademark for the character. In the first season, he drove a classic Volvo 240, a model that was first introduced in the 1970s. In later seasons, Luther returned to the 240, cementing its status as his go-to car.
So, what is it about old Volvos that appeals to Luther? Perhaps it's the no-nonsense, utilitarian design that matches his own straightforward approach to solving crimes. Or maybe it's the durability and reliability that old Volvos are known for - qualities that are also important for a detective who needs a dependable vehicle to get him from crime scene to crime scene.
The Volvo 240 is a classic example of a car that proves less can be more. It's simple yet unmistakable design is instantly recognisable, a true testament to the brand's signature style. The 240's iconic shape is the embodiment of Volvo's practicality, with proportions that prioritise function over form. Safety is also a top priority, as evidenced by the car's numerous safety features that were ahead of their time.
While the 240 may not have the flashy features of some of today's cars, its enduring popularity proves that good design and reliable performance never go out of style.
Interested in bagging yourself a reliable model? Check out our best reliable used cars blog for inspiration.
Columbo – Peugeot 403 convertible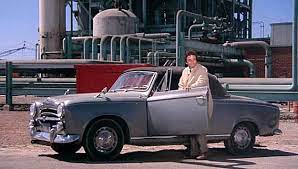 Columbo is one of the most beloved detective series of all time, with a fanbase that spans generations. While the show's eponymous detective was known for his unassuming demeanour and sharp intellect, his choice of car was anything but ordinary.
Peter Falk, the actor who brought Columbo to life, personally selected the Peugeot 403 Cabriolet as the character's iconic ride. Falk spotted the car in a studio parking lot and was immediately drawn to its classic lines and stylish design. The Pinin farina-styled 403 was first introduced in 1955, and quickly gained a reputation for its solid construction and reliability. By the time production ended, over a million of these cars had been built, but the two-door cabriolet version remained a rare gem, with only a few thousand ever produced.
This cabriolet is a prime example of why the 403 remains such a coveted car among collectors. With a beautifully patinated interior and exterior, it wears its age with pride and elegance. It's the perfect embodiment of the timeless style and understated sophistication that made Columbo such a fan favourite. For car enthusiasts, it's a must-see classic that will forever be linked to one of TV's greatest detectives.
Convertibles have come a long way since Columbo was on our screens. Take a look at our picks for the best convertible cars in the UK today.
Sherlock Holmes – Land Rover Defender II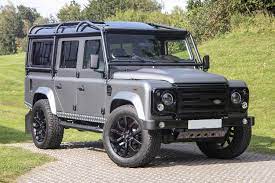 Our favourite on-screen detectives list wouldn't be complete without the one and only Sherlock Holmes. While there have been plenty of adaptations made, here we're talking about the series character played by none other than Benedict Cumberbatch.
While taxis appear to be Holme's favourite mode of transportation, eagle eyed viewers would have spotted him driving around in none other than a Land Rover Defender. Initially, it was supposed to be Watson driving this unusual addition to the show, but the actor who played him (Martin Freeman) can't drive. So, Benedict took to the wheel for the iconic scene.
Few cars can claim to be as iconic as the Land Rover Defender. With its instantly recognisable silhouette and rugged off-road capabilities, it has captured the hearts of car enthusiasts around the world. While the model has undergone a few updates over the years, its vintage look has remained largely unchanged, preserving its status as a true classic.
Sadly, the Defender was officially retired in 2016 due to poor safety and emissions ratings, much to the dismay of petrol-heads everywhere. However, Land Rover has not given up on the beloved model, with concepts and prototypes for a reinvigorated and remodelled Defender in the works. So, while the original Defender may only be available as a used model, there is still hope for a new generation of this beloved off-roader.
Takeaways
With so many great on-screen detectives to choose from, we found it tough to narrow down our favourites. However, we think you'll agree with our selections above, but if not, let us know in the comments who your favourite on-screen detective/car duo is. 🔎
And if you enjoy reading reading our blogs about celebrities and their cars, why not check out James Corden Carpool Karaoke cars, or Adele's cars or even cars from the Drive movie!