What are the Best Small Electric Cars in the UK?
Every driver has their own set of preferences when it comes to the kind of car they want to drive. For many people, especially those in busy cities, they prefer smaller electric cars because they're much easier to manoeuvre, cheaper to run, plus they're practical vehicles as well. It's also undeniable that finding parking spaces is less troublesome when you're driving a compact car. If you're shopping for a car for city driving, we've gathered a short list of the best small electric cars UK!
BMW i3
Elegant, Stylish, and Well-built Electric Car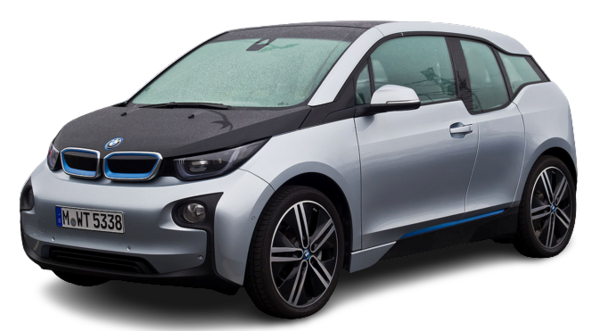 The i3 from BMW is one of the most stylish small electric cars on the market today. But don't think that it's only great to look at. It's certainly a pleasure to drive as well! The BMW i3 has been a game changer in the automotive industry since it was introduced back in 2013. Sadly, the i3 was recently discontinued in June 2022, but it's still one of the most in-demand small electric cars in the UK.
There are two kinds of BMW i3, the all-electric model and the range-extender hybrid. The latest model of the i3 EV can get you a range of up to 190 miles on a single charge. Sure, other EVs can get your farther, but what the i3 lacks in that regard, it makes up for in its design, build quality, and the driving experience it offers. With its weight kept to 1,365kg, it's an efficient car that's agile, responsive, and offers instant acceleration.
It's worth considering buying a BMW i3 if you're looking for one of the best small electric cars in the UK. It's easy to drive on city streets, and you'll definitely enjoy all the tech and features the i3 has in store for you. It has a high-resolution 10-inch screen for its infotainment system and sat nav for all models. If you're looking for a truly elegant cabin with wooden dashboard trims as well as leather seats, be sure to pick the Loft, Lodge, or Suite interior trim packages.
Renault Zoe
Fantastic Choice for Your First Electric Car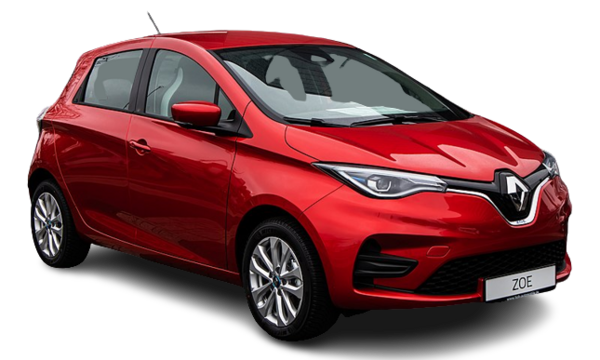 Are you still transitioning from a diesel or petrol car to an eco-friendly one? In case you're looking for one of the best small electric cars that will still make you feel that you're driving a combustion-engine vehicle, then you're going to love the Renault Zoe. Getting behind the wheel, it's going to be a breeze to drive the Zoe. Maybe the only difference you'll notice is this EV is a lot quieter than the usual diesel or petrol-powered city car.
Living in the city, we just want a capable electric car that's not complicated to drive and also doesn't need so much space for parking. Zoe is great if you need a car for shorter drives to take you to your daily errands. It's one of the best EVs with an affordable price tag and is practical to run. It has a good battery range of 234 miles before you need to stop and recharge it. As a city car, that's more than enough.
Renault Zoe's interior takes a lot of inspiration from Captur and Clio. There aren't conventional dials any more, but you'll get a very high-tech-looking digital display of your range and speed. Graphics will also tell you whenever the regenerative systems are putting power back into the car's EV battery. In the same way, it will also tell you if it's discharging power. Renault has made an effort to create this interior for the Zoe that gives a minimalist and modern feel. You'll surely love it!
Peugeot e-208
Perfect for City Driving or Countryside Road Trip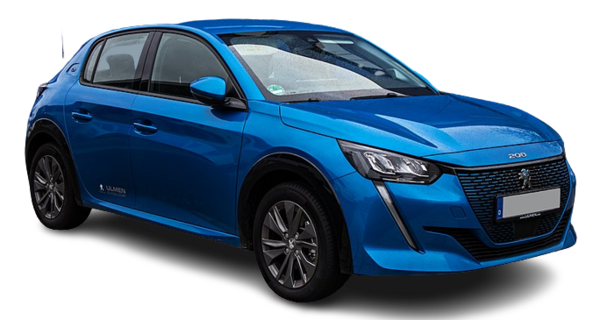 Another awesome small electric car to consider is the Peugeot e-208. If this is going to be your first electric car, the e-208 would also be a great first EV. It has good range, so you won't have to worry about getting range anxiety while driving this car. The e-208 looks good, stylish, and classy, and of course, it's a practical car for your day-to-day commute in the city. Inside, there's a 7-inch touchscreen infotainment system, DAB radio, Bluetooth, Android Auto, and Apple CarPlay. You'll have a fun time driving this EV, whether it be on city streets or down some country roads!
Now, let's talk about power. The Peugeot e-208 powertrain is composed of a 134bhp electric motor and a 50kW battery. This gives the e-208 enough punch for city driving and sufficient range that can take you to 225 before you need to plug it in. Whenever you need to recharge the e-208, you don't have to wait long hours to get it to 80% and continue on your journey. Plug it in for half an hour using a public rapid charger while you enjoy a cup of tea or coffee, and you'll be ready to go!
Takeaway
So, what is the best small electric car? Answering this question would be a tough one! Over recent years, there are now many kinds of electric cars. There are electric family cars, electric sports cars, electric city cars, and so on. The best small car is the one that fits your budget and is also fun for you to drive. Whenever you're shopping for an electric car, be sure to take time to test drive the EV! Make the most of the test drive and get to know the car first. That will usually tell you if it's the best fit.