Lewis Hamilton's Crazy Car Collection
Lewis Hamilton might not be able to do a lot of things, but buying and driving fast cars certainly isn't one of them. He races for one of the most successful teams in Formula One history, and has seven world titles to his name, which earned him the title 'Sir Lewis Hamilton' in December 2020.
The F1 driver has an incredible collection of million dollar cars, all of which have their own unique details. Here at Carmoola, we have a couple of F1 fans, and we had a look into his fortune on wheels to find out what cars Sir Lewis owns... you might like to watch our video about him too....👇
Lewis Hamilton's Career
Lewis first burst onto the scene in 2007, when he joined McLaren. He finished on the podium on his debut, brilliantly racing throughout the year to finish runner up behind Kimi Raikkonen. His success continued and in 2009 he earned himself an MBE after winning the F1 championship. Now the youngest Formula One World Champion in history, he didn't really look back, continuing to dominate in the sport, with childhood team mate Nico Rosberg. This lasted until 2017, where Hamilton went on a four title consecutive streak that came with minimal competition. He was a step above.
Then came along Max Verstappen. The pair often caused havoc on the track, as they were a level above the rest, so the majority of the season was looking at these two titans of the sport battling it out. Andrew Benson described the 2021 season as "one of the most intense, hard-fought battles in sporting history".
Now, onto what you have come here to read today. What is Lewis Hamilton driving off the track. We all know that he drives around as part of the Mercedes-AMG Petronas F1 Team, but does his opinion differ when it comes to casual driving? Read on to find out….
Lewis Hamilton's Activism
Hamilton is an advocate for increased diversity, human rights and environmental rights around the F1 scene, and that has recently seen a big change on his car collection, especially the cars he now chooses to drive. Before the Emilia Romagna Grand Prix in the 2020 season he let the press know about becoming environmentally conscious and the backlash he has received for that.
"It's difficult because there are people like 'yeah, but you race a Formula One car around every weekend'."
He followed by saying "Some of it's education because not everyone knows the footprint that our sport currently has and what we're doing in terms of trying to improve that. But I'm making a lot of changes in my personal life … I don't drive any of the cars that I own anymore. I only drive my EQC."
Lewis Hamilton's Car Collection
Lewis made it clear that his car collection is no longer in use, but from previous blog posts, we know that Formula 1 drivers, especially those at the top of their game are compensated very well for their efforts on the track. And as petrol heads (at some point in their life) it's no surprise the drivers like to invest in their car collections. Lewis was no different, he had no problems amassing one of the finest car collections we have seen, and with his connections, we think we have only scratched the surface here.
McLaren P1
Lewis knows the quality of the McLaren, having started his F1 career there. He dropped a nice $1,150,000 on this car, and we think we know why - something to do with the 903 horsepower it carries which means it can go from 0-62MPH in just 2.7 seconds. Check out the picture below, where he was spotted hopping in for a quick drive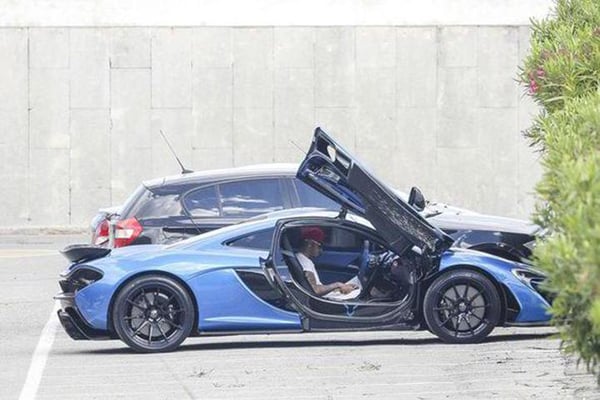 Mercedes Benz SLS AMG
What a beauty of a car this is. With the long nose, the gull doors, it truly is a masterpiece, and Hamilton actually had the job of introducing this car to the world, when the Petronas F1 team filmed a YouTube video where Lewis walked us through the car, and showed the pure quality that it carries. Another speed demon, the AMG goes from 0-62 in just 3.5 seconds largely down to its V8 engine that produces 622 horsepower. Top speed? 195 MPH. We know, seriously impressive.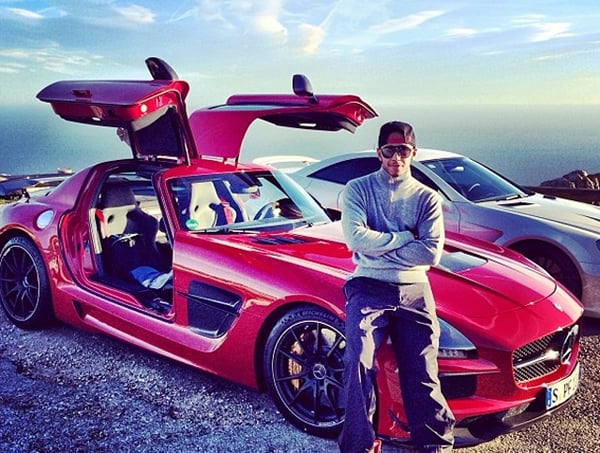 MV Agusta Lewis Hamilton Edition 800RR
Before we move onto his current daily driver and only active car, we thought it would be a great addition to the blog if we included the motorbike Hamilton designed. Before becoming more environmentally conscious, Lewis had a place in his garage for the MV Agusta. The 7-time world champion developed his own bike and the result? Pretty impressive. A 798 CC bike, that retailed for around £20,000. Only 144 were made, a reference to Hamilton's race number 44. Let's put it this way, we wish we got our hands on one, obviously on finance 🚗 🤑
Mercedes Benz EQC
The EQC is a compact SUV that is the first member of Mercedes' brand new electric EQ range. This truly is on Tesla levels, with smart voice technology, collision avoidance and two interactive interior displays. We can see why Lewis loves the car, and chooses it as a daily driver. If you are looking to buy your own electric car, we have a great article here about what effects that has on your car finance, as electric cars become more and more popular. Take a look at Lewis styling the motor out below.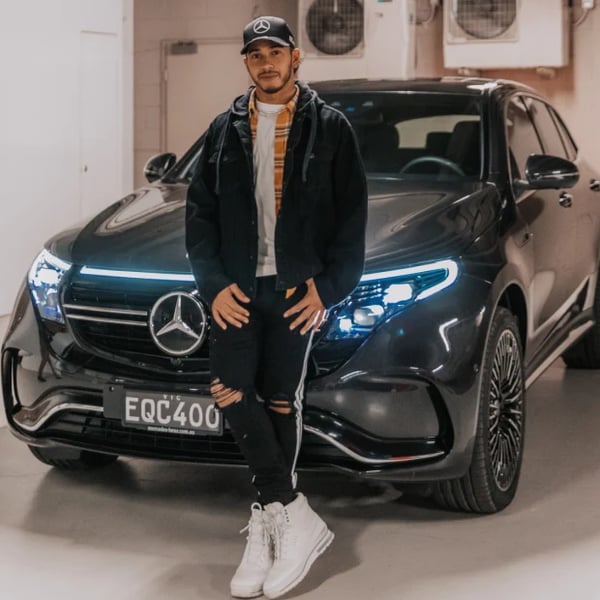 Takeaway
Lewis Hamilton as expected has an amazing car collection, however, unlike other celebrities, he chooses not to drive the cars he invested so much money into. Due to his increased interest in the environment and lowering his emissions, the EQC has become his only car.
Wondering who might be a contender for winning the Grand Prix 2023? So are we! Why not check out our latest blog on who we think is in with a fighting chance this year 🏆 And check out the new 2023 cars unveiled!
With Carmoola, you can drive your dream electric car, just like Lewis Hamilton. Be sure to download the app and check to see if you qualify for financing. It won't take five minutes. You just have to enter your name and address and verify your identity using your driver's licence. You'll know the result almost instantly. To know more about how Carmoola works, click here! 😀