What Car does English Swimming Sensation Adam Peaty Drive?
Adam Peaty has done what no British person has done in the pool before, he has defended his Olympic crown and in both Rio and Tokyo, he got Team GB's first gold of the Games. He was one of Team GB's brightest prospects for success in the pool at Rio 2016 and the World, European and Commonwealth champion duly delivered.
But what about his lifestyle outside the pool? What kind of cars does he drive?
Is it flashy sports cars like the footballers? Or is he looking for more of a comfort factor after a long training session with his medley teammates or trying to break the world record in his favoured stroke - breast stroke Let's dive right in and find out those answers in today's Carmoola blog post...
More About Adam
The swimmer broke his own world record in the 100m breaststroke final, touching home in a time of 57.13s to claim Team GB's first medal at Rio 2016. Peaty then doubled his medal haul as part of the men's 4x100m medley quartet which took silver.
But his Olympic journey was only just beginning. Five years later, Adam Peaty became a double Olympic champion with the first gold medal Team GB won at Tokyo 2020/21.
A promising junior swimmer, Peaty started to take the sport seriously at the age of 17 when he was preparing for a night out with friends and saw contemporary Craig Benson qualify for the Olympic semi-finals at London 2012. It was at that moment that he fully committed to the sport.
He first emerged as a star in 2014 when, after taking three medals at the Commonwealth Games, he shone at the European Championships in Berlin to claim four gold medals and clinch the 50m breaststroke world record in the process.
In 2015, he claimed three gold medals at the World Championships in Kazan and once again set a world record over 50m, backing this performance up with two golds and a silver in Budapest two years later – including two more world records over 50m.
In the wake of his triumphs in Rio, Peaty became the most successful British male swimmer at the World Championships in Budapest in 2017 after claiming a fifth world title – he broke the world record twice en route to the 50m breaststroke title while also winning the men's 100m breaststroke, as well as silver in the men's 4x100m medley relay.

Adam Peaty & Cupra
Adam Peaty – regarded as one of the best swimmers in the world and holding the top 20 fastest breaststroke times in race history – is one of CUPRA's ambassadors, joining an array of other elite athletes that share CUPRA's passion for performance, which includes FC Barcelona football stars, Ansu Fati and Marc ter Stegen.
CUPRA actually took their ambassador Adam Peaty OBE to Shelsley Walsh to see him attempt to break his 56-second barrier, like he did with his breaststroke swimming record of 56.88 seconds over 100m, but transposed onto the track in a CUPRA Formentor. If you've seen that video out there, we have to admit it's a great watch 😂

Now - CUPRA is not the only car in Peaty's garage. According to the internet, these are the athlete's finest cars...
1.
Renault Clio
Okay this isn't his best car. But it is his first, and therefore will always have a special place in any car owners heart. In an interview he did with Top Gear he states that whenever he needed to get anywhere in a rush, it always broke down. I think the majority of Clio owners can agree with that statement - there are definitely some nods in agreement around the office right now.

2.
Mercedes-AMG A45
Peaty famously likes to modify his vehicles - and the AMG A45 was one of the first cars he modified. This car was a present to himself after his first world championships appearance. The A45 had a 4-inch downpipe, coilovers, new wheels, new intakes and a custom map, sounds like some vehicle...
3.
Volkswagen Golf
Peaty's second car was a Volkswagen Golf. The Golf is almost as iconic for young drivers as the Clio, but luckily for better performance. The Golf is every young racer's dream car, and Adam was no different. He modified the exhaust (a questionable decision if we must admit), however, he was young. No judgement here 😂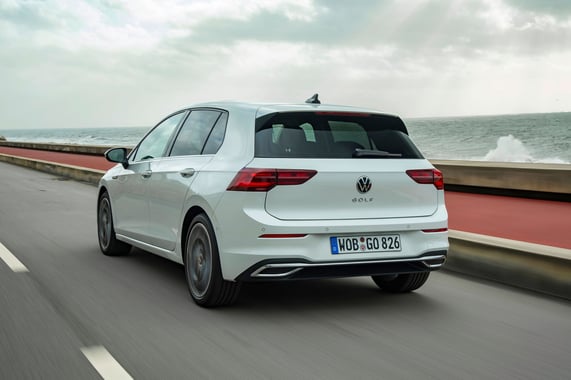 4. Jeep Wrangler
The final car in today's car collection is the Jeep Wrangler. After his success inside the pool, Adam developed a more adventurous side – which is one of the main reasons he bought his Jeep Wrangler. This is his daily driver, and he bought it after the introduction of his daughter. Adam often talks about this vehicle in interviews, and he mentions in his interview with Top Gear that the Jeep Wrangler has been modified. There are several modifications we can see when comparing this Jeep to the original model. It's got a lift kit, carbon fibre fenders, a new grille, new bumpers all round and massive 36-inch tyres – it's definitely a head-turner.
Takeaways
No matter if you are a Team GB, Team Australia or Team New Zealand fan, you have to say, Adam Peaty is a legend of swimming. But who knew that he would have as cool a car collection as he does!
If you are looking for your very own Peaty-approved car, check out our online car finance calculator. It can give you an estimate of the repayment amount to expect for your desired budget.
Follow the steps below or check out the 'How it Works' section of the website to get your car finance journey started today.
Go to the Carmoola App
Enter your details & verify your ID
You will then get an illustration of what you could potentially borrow, over how long & what it would cost per month.
Then go ahead and apply!
And then if you are accepted, go on to find your dream car, and then you can go ahead and simply pay with your virtual Carmoola card at the dealership (or online)! What's not to like? 😃