Best Roads to Drive on in Europe
Having a car gives you complete freedom of the road, which means the ability to drive pretty much anywhere you like, including abroad. We've already covered the delights of driving outside the UK with guides to the best European road trips, countries to visit and how to prepare your car for holidays abroad. Now, we're looking at specific roads in Europe that you simply need to experience driving on. These aren't road trips, as such. Instead, they're a collection of amazing roads scattered across Europe.
Nockalm Road, Austria 🇦🇹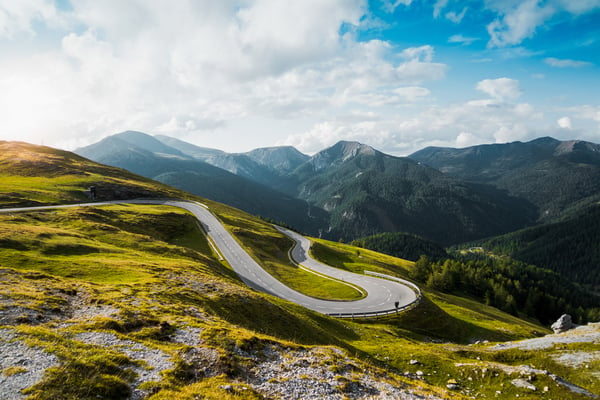 Head to Austria for one of the best roads to drive on in Europe. Along Nockalm Road, which stretches between 20 miles from Innerkrems in the north to Ebene Reichenau, you can expect to see the landscapes open up and offer impressive viewpoints as you ascend. The drive starts by going through a dense forest before heading into mountain landscapes with panoramic views in every direction.
Col de la Bonette, France 🇫🇷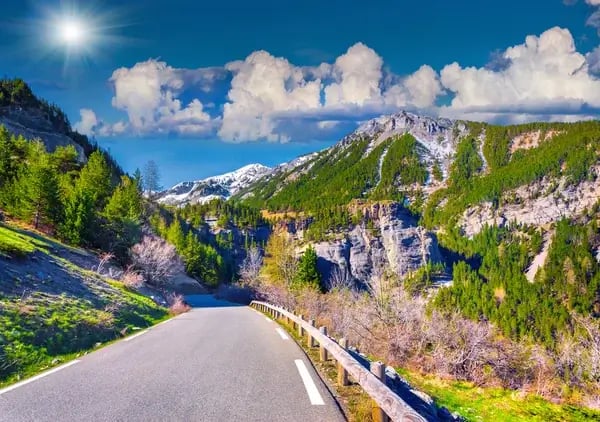 One of the most famous roads in the Alps, the Col de la Bonette is full of high-adrenaline turns and stunning sights. Despite being one of the highest roads in Europe, it's not that difficult to navigate thanks to smooth road surfaces that lead their way to a summit while offering some of the best views available in Europe. It is in the Alps, after all.
Colle del Nivolet, Italy 🇮🇹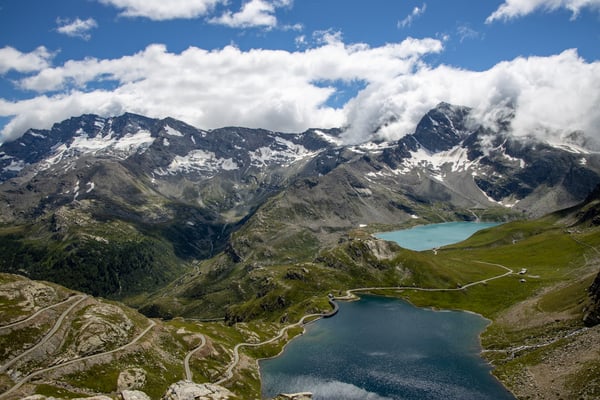 One of Italy's most popular roads, Colle del Nivolet is often busy with traffic – especially in the summer. It's easy to see why, as it's set in a majestic Northern Italian location in the Gran Paradiso National Park. The road is narrow with many blind corners, so approach with caution. But it's well worth a drive and was featured in movies like The Italian Job. This road might be busy, but it's full of mountainous peaks, rolling greens and stunning lakes.
Romantische Strasse, Germany 🇩🇪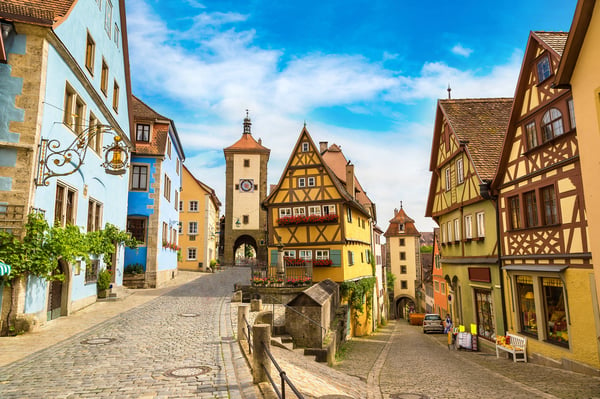 Romantische Strasse translates to the "Romantic Road" in English, and it's easy to see why. This stretch of highway was an early medieval trade route designed to connect areas of central Germany to the south. After the Second World War, it became a popular road for drivers thanks to its idyllic settings that are a throwback to traditional Germany. To this day, many people drive the route and pass through important places like Rothenburg, Germany's romantic city, and Ausberg, the second oldest city in the capital.
Trollstigen Road, 🇳🇴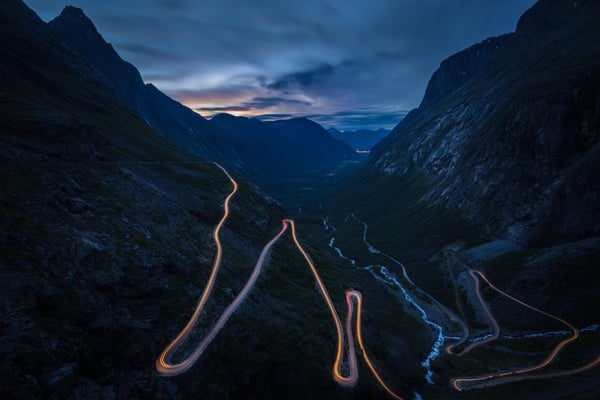 Nicknamed "Troll's Ladder", you'll find Trollstigen Road in the mountains of Norway on the Western Coast. It's one of the most dramatic roads in the world, with tricky hairpins and many steep sections that'll leave you with wonderful views over one of Europe's prettiest countries.
Route Napoleon, 🇫🇷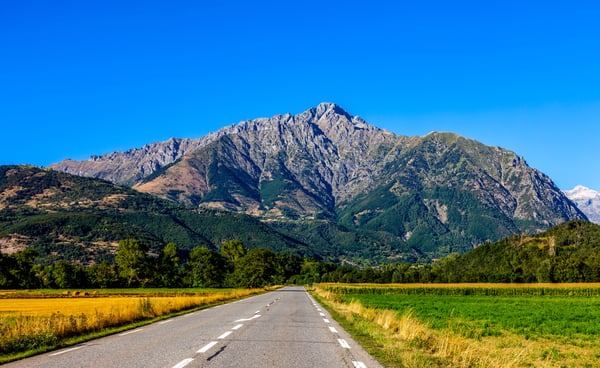 Another French gem, Route Napoleon is one of the most famous roads in the South of France. It runs for around 200 miles and covers everywhere from Golfe-Juan on the coast to Grenoble in the French Alps. It was named after Napoleon, who took the route from Elba to Grenoble with his army in 1815 to escape from exile. Expect some of the best scenery in France along the way.
Via Chiantigiana, Italy 🇮🇹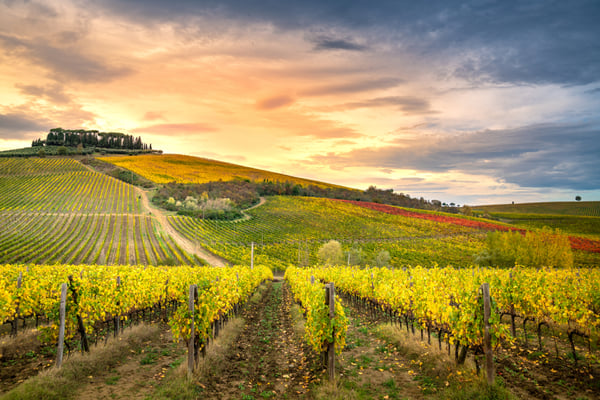 Tuscany is well known for its beautiful scenery, and a trip along Via Chiantigiana provides you with one of the best driving experiences in Europe. Located between Florence and Siena, the road passes through charming towns and many postcard-perfect vineyard landscapes. There are plenty of twists and turns along the drive, adding a bit of excitement to a road full of scenic delights.
Port de Larrau, Spain and France 🇪🇸 🇫🇷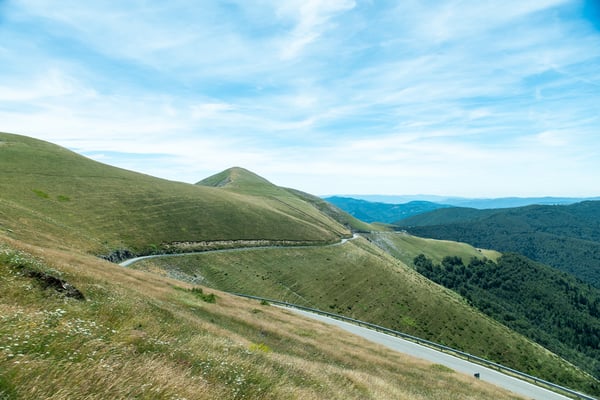 The Pyrenees mountain range spreads across Spain and France, offering some seriously good driving routes in the process. If you're a lover of scenic drives, make sure you head to Port de Larrau. It passes the border between France and Spain and is a relatively quiet drive. That means you can enjoy mountain sights on quiet roads while soaking up panoramic views on the corners and bends along the road.
The best roads to drive in Europe
Europe is full of many scenic sights, and any one of the roads on our list makes for a beautiful drive. So get behind the wheel and take in mountain views, rolling greens and a little slice of history on some of the best roads in Europe for driving.