Carmoola's Best European Road Trip Routes This Summer
With locations across the EU a mere stone's throw away and not restricted by the boundaries of popular holiday resorts or package holidays, embarking on a road trip allows travellers to see unmissable sites at their own pace. With this in mind, Carmoola has crunched the numbers to determine the most in-demand locations that are setting socials alight.
Using Global Search Demand, Instagram hashtags and Tik Tok views, Carmoola has found the top 10 road-trip locations perfect for hitting the road and exploring on your next trip. TikTok videos using the phrase 'road trip' have increased in popularity by 97% in the past month on the platform - with videos under the hashtag itself racking up over 14 billion views, as the popularity of adventures by road is increasing!
1# The French Riviera - Most Instagrammed and TikTok views!
Route distance: 350 miles 🚗🚗🚗🚗
Drive time: 7-9 hours ⏰⏰⏰
Search demand: 54,000 ​​🔥​​🔥​​🔥​​🔥
Instagram hashtags: 5.3 million: 🔥🔥🔥🔥​​🔥
TikTok views: 398.3 million

🔥🔥🔥🔥🔥

Recommended trip duration: 3-7 days
🌄 Highlight: Èze

Enjoy the glitz and glamour of the French Riviera by driving along the coast, stopping at glamorous destinations like Nice, Cannes, and Monaco. While the exact boundaries of the French Riviera may vary depending on the interpretation, it generally extends from the border with Italy in the east to the city of Saint-Tropez in the west. The French Riviera offers a diverse range of landscapes, including sandy beaches, rocky coves, glamorous resorts, charming villages, and picturesque coastal towns. Like the similarly popular Amalfi Coast, the Riviera is a summer tourist hotspot - with almost 400m views on TikTok. Up to a week gives plenty of time to soak in the sun of southern France.
Our recommended stop is Èze, a seaside commune perched on a hilltop. Èze offers breathtaking views of the sea, and the village itself is set along medieval streets with a charming ambience.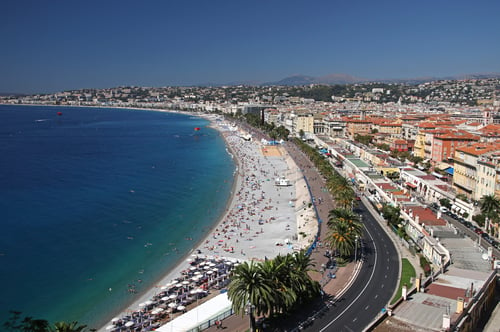 2# The Amalfi Coast, Italy - Highest Global Search Demand!
Route distance: 31 miles 🚗
Drive time: 2-3 days ⏰⏰⏰⏰
Search demand: 541,000 ​​🔥​​🔥​​🔥​​🔥​​🔥
Instagram hashtags: 3.6 million 🔥🔥🔥​​🔥
TikTok views: 146 million 🔥🔥🔥🔥
Recommended trip duration: 5-7 days
🌄 Highlight: Path of the Gods


The Amalfi Coast is a picturesque holiday destination admired for gorgeous seaside towns, beaches, and roads that weave along the cliffside. It's also reachable entirely by car from the UK if you want to take a long drive through continental Europe via Calais.
This stunning coastal route takes you along the cliffs and beaches of southern Italy. The road winds along the cliffs of the Sorrentine Peninsula, offering breathtaking views of the Mediterranean Sea. The main towns along the coast include Positano, Amalfi, and Ravello - each known for colourful buildings, charming streets, and beautiful beaches. This destination is the subject of 1.4m Instagram posts and TikTok videos about the destination have racked up more than 130m views!
Break up the drive with a trek off the beaten track: the Path of the Gods is a scenic hiking trail that offers incredible views over the coastal cliffs - it's a must-do for nature lovers and keen walkers when they visit the coast, and it might provide a bit of welcome respite from the drive should you need it.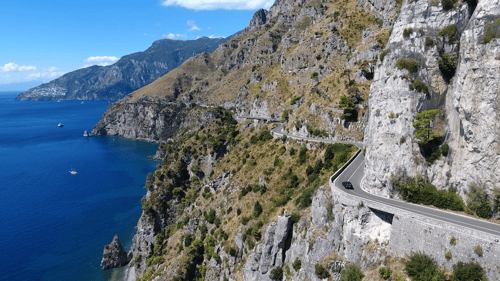 3# The Transfagarasan Highway, Romania
Route distance: 56 miles 🚗🚗
Drive time: 2-3 hours ⏰⏰
Search demand: 2000 ​​🔥​​🔥
Instagram hashtags: 157,000 🔥🔥​​🔥
TikTok views: 102.6 million 🔥🔥🔥​​🔥
Recommended trip duration: 1 day
🌄 Highlight: Bâlea Glacier Lake


The Transfagarasan Highway is a winding road that passes through the stunning Carpathian Mountains. The road starts in the town of Bascov, near Pitesti, and winds its way up to the highest point at Bâlea Lake, reaching an elevation of 2,042m above sea level. Renowned for its stunning scenery, hairpin turns, and panoramic views of the surrounding mountains, it's often considered one of the most spectacular and challenging driving routes in Europe but offers an adrenaline-filled adventure for those who wish to conquer it. The road is usually open only during the summer months, typically from June to October, depending on weather conditions. Thanks to its picturesque views it has over 157,000 Instagram posts and related videos on TikTok amassing over 100m views.
Close to the highest point, you'll find Bâlea Glacier Lake, a small glacial lake surrounded by rugged peaks. It's accessible via a cable car and offers beautiful views of the mountains and several hiking routes.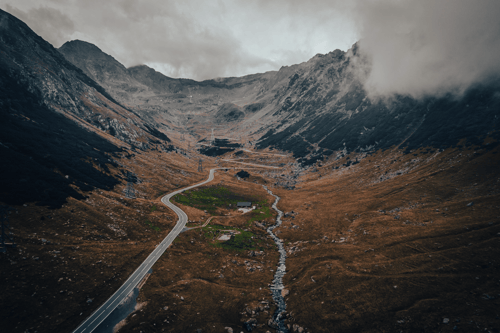 4# The Dingle Peninsula, Ireland
Route distance: 30 miles 🚗
Drive time: 2-3 hours ⏰⏰
Search demand: 13,000 ​​🔥​​🔥​​🔥
Instagram hashtags: 129,000 🔥🔥​​🔥
TikTok views: 1.9 million 🔥🔥​​🔥
Recommended trip duration: 1 day
🌄 Highlight: Blasket Islands


Ireland's Dingle Peninsula in County Kerry offers ancient ruins, sandy beaches, rolling hills and charming villages. What more could you want? The peninsula juts out into the Atlantic Ocean, giving road-trippers stunning coastal views. The main town in the area is Dingle, which serves as a good base for exploration. The coastal road, known as the Slea Head Drive, runs by landmarks like Dunbeg Fort, Gallarus Oratory, and the Blasket Islands. While the route itself is short, the peninsula itself has plenty to see and do - many travellers tend to go for a day or more exploring Dingle and its surrounds, with TikTok videos of the peninsula amassing 4 million views on the platform.
The Blasket Islands themselves are worth a visit - these remote islands were inhabited until the 1950s and now exist as a glimpse into traditional Irish island life. They're accessible by boat from the peninsula and are a great way to soak in Irish cultural heritage.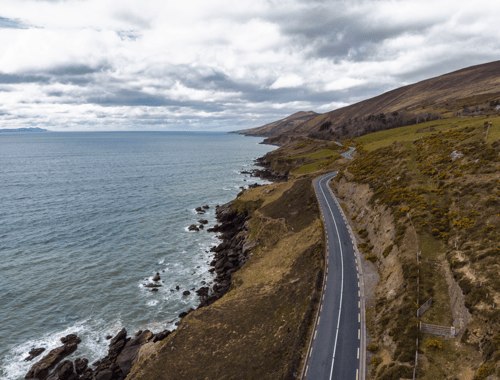 5# The Icelandic Ring Road - Longest Route at 828 miles!
Route distance: 828 miles 🚗🚗🚗🚗🚗
Drive time: 10 days ⏰⏰⏰⏰⏰
Search demand: 8,400 ​​🔥​​🔥​​🔥
Instagram hashtags: 19,000 🔥​​🔥
TikTok views: 2.5 million 🔥🔥🔥
Recommended trip duration: 14 days
🌄 Highlight: Mývatn


This is a big one - and maybe not for you if the summer sun is what you're looking for. But an 828-mile round trip along Iceland's Route 1 - the road that circles the entire country and conveniently gives you access to an abundance of the nation's tourist attractions - is too good a route to not include here! This loop takes you around the entire island, offering a scenic route that showcases the diverse landscapes of Iceland, including waterfalls, volcanoes, glaciers, and geothermal areas. While the distance we have tracked is just for Route 1 itself, it's worth noting that there are also many side trips and detours to specific attractions that can be added to your journey.
A must-visit is the attraction of Mývatn, a shallow lake known for its unique geothermal activity and birdlife. Mývatn is a popular stop along the Ring Road, with 1.2m TikTok views on related videos. You can explore volcanic craters, and hot springs, and enjoy the scenic beauty of the area, marking a welcome respite from the longest route on this list!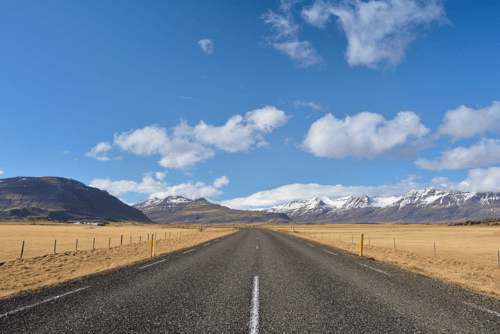 6# The Dalmatian Coast, Croatia
Route distance: 220 miles 🚗🚗🚗🚗
Drive time: 6-8 hours ⏰⏰⏰
Search demand: 9,800 ​​🔥​​🔥​​🔥
Instagram hashtags: 14,200 🔥🔥
TikTok views: 1.9 million 🔥🔥​​🔥
Recommended trip duration: 5-7 days
🌄 Highlight: Korcula

This coastal route takes you through historic towns and stunning natural scenery along the Adriatic Sea, passing through cities like Dubrovnik, Split, and Zadar. The Dalmatian Coast is famous for its crystal-clear waters, charming coastal towns, historical sites, and beautiful islands. While the coastline itself is approximately 350 kilometres long, exploring the region thoroughly and taking time to visit different towns and islands can take anywhere from a week to several weeks, depending on the pace of your journey and the number of activities and attractions you want to experience.
Our highlight for your itinerary is Korcula, an island with a rich history and stunning architecture that sits just off the coast. Videos about the island itself have over 15m views on TikTok, and it's worth a visit whether you're road-tripping Croatia or simply there for a holiday.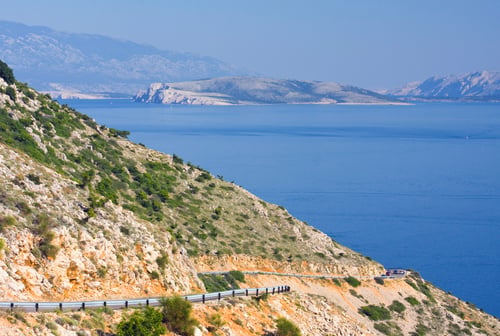 7# The Atlantic Road, Norway
Route distance: 5.2 miles 🚗
Drive time: 1-2 hours ⏰
Search demand: 4,100 ​​🔥​​🔥
Instagram hashtags: 27,200 🔥🔥
TikTok views: 1.8 million 🔥🔥​​🔥
Recommended trip duration: 1 day
🌄 Highlight: Storseisundet Bridge


This short route runs over water - connecting several small Norwegian islands with bridges and causeways. While this route itself is short, it's among Norway's most famous and picturesque drives, so can factor into a wider Scandinavian road trip or be a detour from a Norwegian holiday. While the road itself is relatively short, the surrounding region, including the fjords and coastal areas, offers plenty of attractions and other routes to explore. We recommend a day to explore nearby destinations such as Ålesund and Trollstigen - both within driving distance.
The road does pass through Averøy: This island is home to the iconic Storseisundet Bridge, often called the "drunken bridge" due to its dramatic appearance. The Atlantic Road has 1.8m views on Tiktok, with many videos incorporating the unique bridge.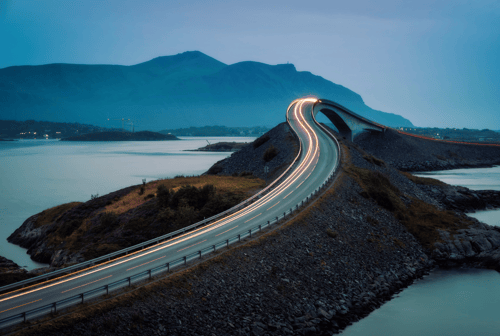 8# The Causeway Coastal Route, Northern Ireland - Shortest Route at 120 miles!
Route distance: 120 miles 🚗🚗🚗
Drive time: 3-4 hours ⏰⏰
Search demand: 3,200 ​​🔥​​🔥
Instagram hashtags: 70,000 🔥🔥​​🔥
TikTok views: 1.4 million 🔥🔥🔥
Recommended trip duration: 2-3 days
🌄 Highlight: Old Bushmills Distillery


Closer to home, the Causeway Coastal route begins in Belfast and continues along the coast, passing through picturesque towns, rugged landscapes, and iconic attractions such as the Giant's Causeway, Carrick-a-Rede Rope Bridge, Dunluce Castle, and the Glens of Antrim, ending at Derry. There are several points of interest which can prolong the length of your stay - while the route itself can be driven end to end within one day, most travellers tend to stay in the area a little longer to enjoy overnight stays in the coastal towns and visits to the attractions along the Northern Ireland coast. The route itself has amassed 1.4m views on TikTok!
The Old Bushmills Distillery is a highlight of this route - it's the oldest licensed whiskey distillery in the world, where visitors can take tours to learn about the whiskey-making process and sample some of their famous Irish whiskey. Although, maybe sit that one out if you're the designated driver for the day.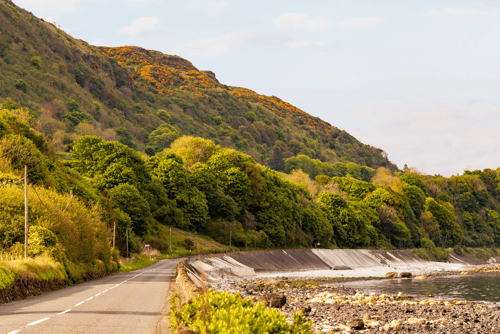 9# The Alpine Road, Germany and Austria
Hidden Gem with less than 450 searches each month!
Route distance: 280 miles 🚗🚗🚗🚗
Drive time: 8-10 hours ⏰⏰⏰
Search demand: 450 ​​🔥
Instagram hashtags: 5000 🔥
TikTok views: 71,600 🔥​​🔥
Recommended trip duration: 5-7 days
🌄 Highlight: Neuschwanstein Castle

The Alpine Road is a scenic mountain road that winds through the Hohe Tauern National Park in the Austrian Alps. Starting in the town of Bruck an der Großglocknerstraße, the road climbs to an elevation of 2,504m at the Kaiser Franz Josefs Höhe viewpoint near the foot of the Großglockner, Austria's highest peak. The Alpine Road offers breathtaking views of alpine landscapes, including majestic mountains, glaciers, and charming valleys. It is particularly known for its 36 hairpin turns, which provide thrilling driving experiences and opportunities to appreciate the stunning surroundings. Many travellers choose to spend several days to a week or more exploring the region. This allows for leisurely drives, stops at key attractions, hikes in the mountains, and visits to charming towns like Füssen, Garmisch-Partenkirchen, and Berchtesgaden.
Neuschwanstein Castle is our highlight of this route, with 5.2m views on videos about the castle. It's an iconic Bavarian landmark, noted for its Disney-like appearance.

10# The Romantic Road, Germany
Route distance: 250 miles 🚗🚗🚗🚗
Drive time: 3-5 days ⏰⏰⏰⏰
Search demand: 5,600 ​​🔥​​🔥​​🔥
Instagram hashtags: 36,400 🔥​​🔥
TikTok views: 5441 🔥
Recommended trip duration: 7 days
🌄 Highlight: Nördlingen


The Romantic Road is one of Germany's most popular road trip routes, lined with castles and towns that look like they were plucked straight from fairy tales. The route itself runs 250 miles from the town of Würzburg to Füssen and passes through several picturesque Bavarian locations including Rothenburg ob der Tauber, Dinkelsbühl and Augsburg. The length of your trip would vary depending on the towns you decide to spend more time in, but a week gives you enough time to see the sights.
One highlight along the route, and a destination worth immersing yourself in for a day or two, is Nördlingen: Encircled by a complete medieval wall, Nördlingen is known for its well-preserved old town, Gothic-style St. George's Church, and the opportunity to climb the city wall for panoramic views. It's a stunning classic Bavarian town, and the location has racked up 38.3m views on TikTok.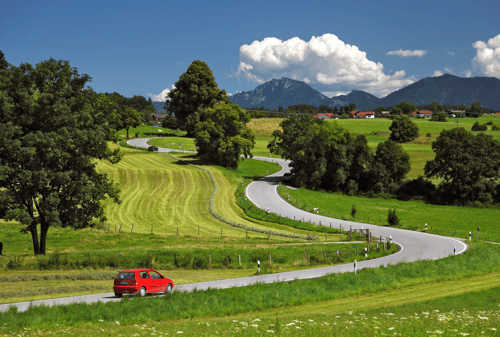 Grace Kelly aka @grace_adventures is an online content creator, adventurer and all-round travel lover from Warwickshire. Over the past few years, she has documented her travels and shared her experiences online, with over 68k followers on Instagram and 28k subscribers on Youtube. Grace shares why she loves to spend her time road-tripping across the world and her recommendations for anyone looking to take on one themselves:
"Road trips are up there as one of the best kinds of adventures you can have. The open road and the freedom are unrivalled, the world is your oyster and you can go wherever you like, whenever you like, blasting your favourite tunes and enjoying awe-inspiring views along the way. But if you've never done one before, you can be forgiven for underestimating the preparation and organisation involved. Especially if you're opting for the more rural tracks where fuel stations and supermarkets are few and far between, or in climates where windstorms or icy roads can throw you off course. Preparation is key to making the most of your road trip and having fun whilst also staying safe, and here are a few tips from the many I've done throughout Iceland, the UK, France, Italy and the US:
Keep over half a tank of fuel as often as possible in case you find yourself far from a fuel station
Always keep a supply of plenty of water and snacks stocked in the boot
A portable stove could be handy for making hot drinks/meals on the go and saving some money
Use an overseas-friendly debit card to avoid foreign transaction fees
Ensure you have your insurance and emergency contact number for your rental car to hand in case of emergencies (screenshot these and don't rely on phone service to find it)
Have a contact back home who knows your planned route and check in with them at agreed points
Google maps are great but keep a local map or A to Z handy in case you're caught with no phone service (a common occurrence on road trips)
Download a LONG playlist on wifi before you travel so you can play it offline
Take a phone tripod for those picturesque road-side stop off's where there's no one to take your photo
The safety things: wear your seatbelt, keep your door locked and don't go over the speed limit!
Most of all: have fun, embrace the spontaneity and make some lifelong memories on the open road…"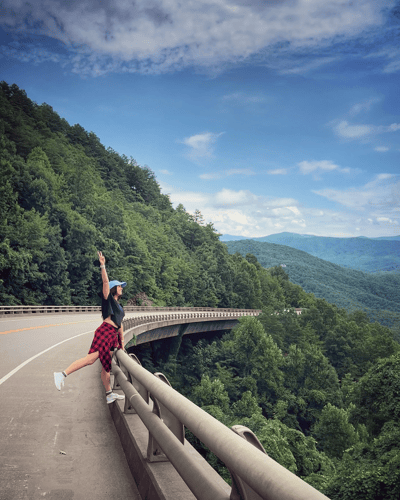 Credit: http://www.gracesadventures.com
Final thoughts
So, which of our road trip routes caught your attention the most? We think there's no better way to break in your new wheels than a road trip with friends - though if you're getting your car on finance, make sure your finance provider is notified of your plans to take the car abroad!
When planning your trip, perform all safety checks on your car to avoid any breakdowns along the way. And make sure you are fully covered by your insurance. We have also compiled a list of the best apps for your trip - Whether it's great apps for getting about, the best apps for road trip games or general fun apps for road trips, we've got you covered. If you're not sure what you'll need when driving abroad, we have compiled a list of exactly what you'll need when driving in a different country.
As long as you have the right documents and take the necessary precautions, driving abroad should be a fun experience! Europe has some of the most incredible road trips, so take your pick from our list and enjoy a different driving experience behind the wheel in another country🚘