Does Conor McGregor Have The Most Expensive Car Collection?
Yes. And we would like to leave it there to be honest with you, that would be the most Conor McGregor answer out there. However, we owe it to you to take you through the top 5 cars in his collection and you can judge for yourself.
I think before we start, an honourable mention must go out to the £3 million yacht that he splashed out on in July 2021. I mean, we get it's not a car, but the yacht, designed by Lamborghini is a thing of beauty, like a lot of the work those guys do.
One positive from all of this is we now know what someone with a net worth of $120 million spends their money on; CARS. McGregor's collection is nothing short of extraordinary and we are super excited to get right into today's Celebrity Cars episode.
The celebrity cars blogs are super popular with you guys reading, and we love to create them for you, so here you go with one for today
Who is Conor McGregor?
Conor McGregor is an Irish MMA fighter and one of the main reasons for the rapid rise in popularity of the UFC. Over the course of his career he has fought in the featherweight, lightweight & welterweight categories, becoming a champion in 2 of the weight classes. In 2017, he fought in possibly the biggest sports event ever against Floyd Maywether where he unfortunately lost, but gained a lot of respect from the fighting community. At Carmoola, we do have a couple of 'fight fans' who love McGregor's spirit and entertaining press conferences.
McGregor took naturally to the superstar lifestyle that he developed being the world's most recognised MMA fighter, however, it wasn't something into which he was born. He came from the suburbs of Dublin, and McGregor journeyed his way through childhood gyms, a stint as a plumber's apprentice, and eventual worldwide fame as the most "notorious" fighter on the planet. Below we will give you our opinion on his top 5 cars 🚗
What cars does McGregor drive?


Conor has amassed a huge number of cars over the span of his career, including;
Rolls-Royce Phantom Drophead Coupe
Lamborghini Aventador Roadster
BMW i8
McLaren 650S
Rolls-Royce Ghost
Pretty impressive right? This doesn't even scratch the surface. The complete collection comes out to over £2.5 million and tallies over 10 cars!
Rolls-Royce Phantom Drophead Coupe


You have just knocked one of the most feared men on the planet out in 13 seconds. What do you do with all that money, and the KO of the night bonus?
Get yourself a Phantom Drophead, that's what you do. After McGregor's brawl with former reigning champion Jose Aldo he treated himself to a Rolls. He was reported to earn $1 million for every second he was in the ring, so the £305,000 he splashed on the Coupe wouldn't have even scratched the surface of his winnings. And McGregor made a popular choice, with luxury car collections, in our time of writing these blogs, we have found time and time again that celebrities do go for Rollers more often than not. I mean, we totally understand why. The Phantom Drophead has the standard luxury interior combined with precision engineering from the factory in Sussex. A work of art.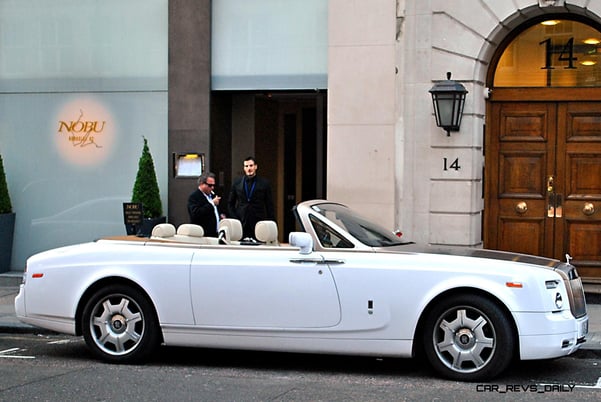 Lamborghini Aventador Roadster
Yes, it's the Aventador again. If you guys have been following the blog for some time now, you know that the Lamborghini Aventador Roadster is very popular among celebrities, especially athletes. We think the Roadster is the perfect car to flex on Instagram, and McGregor does it well, with multiple pictures on his social media channels sat on the bonnet, or cruising around town with Dee Devlin, his partner. But, if you are paying £275,000 for a car, why wouldn't you show it off? This isn't McGregor's only Lamborghini either. He owns a second Aventador, and previously owned a £185,000 Huracan in the past. If you are looking to share Conor, we will take one of the Lambos off you 😂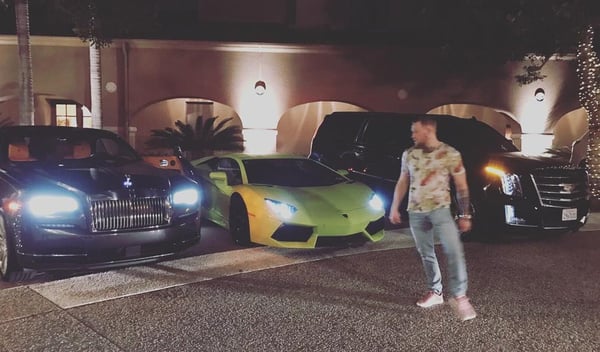 BMW i8
The i8 is an impressive car. In a period where hybrid/electric cars are still developing, we can really only think of Tesla who has made developments in the electric sports car space. McGregor thought the same, and expanded his car collection and delved into the hybrid space with the £114,000 investment into the i8. We really don't blame him either, the car goes from 0-60 in 4.2 seconds and generates 369 BHP to give it a top speed of 155 MPH. We really can see why Conor would splash out some money on this car, and when it was released there was a lot of hype surrounding it. Some seriously jealous car enthusiasts over here :(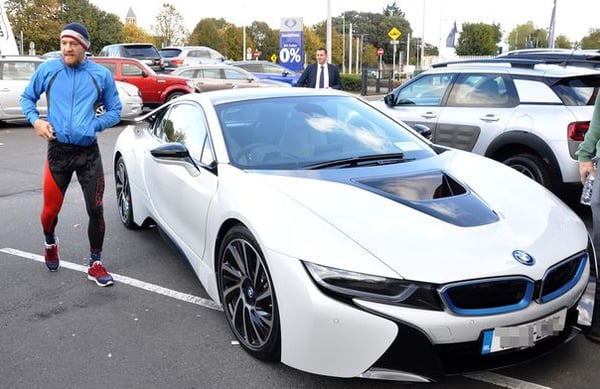 McLaren 650S
Following in the footsteps of Mr.Bean, McGregor got himself a McLaren. The comedian might not have been the reason, granted, but our editor found the thought of possibly the best fighter on earth and Mr.Bean in the same sentence very amusing. The car actually came to limelight though when McGregor was stopped and questioned by police in Dublin. Obviously, as such a notorious character, the paparazzi were quick to get some shots, and then we found out he had a 650S. I know we thought the i8 was fast, but the 650S, like a lot of the McLaren's out there blows that out the water. It can go 0-60 in 3 seconds with a top speed of 207 MPH. McGregor is often spotted out in Dublin waving at adoring fans, and the 650S is not bad in terms of daily drivers.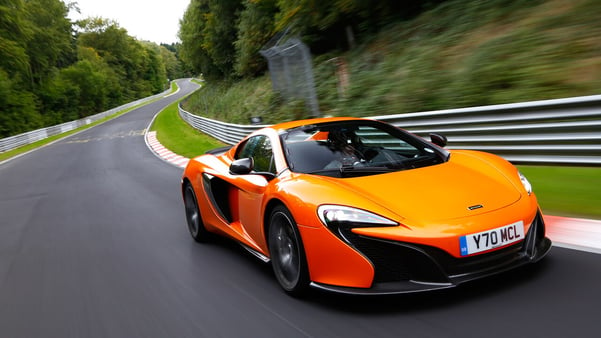 Rolls-Royce Ghost
Can you tell McGregor is a fan of Rolls-Royce yet? And this isn't even where his RR collection ends. He is the proud owner of a Rolls-Royce Wraith worth £253,000, a Rolls-Royce Phantom 8 (£340,000) & a Dawn worth £285,000. What a great customer to have. And Rolls-Royce realised that when they actually reached out to Conor before his brutal TKO on Eddie Alvarez at UFC 205. His gift? An amazing custom made Ghost that had his name and fighting image blazoned across the side. This was obviously the deciding factor between the two, as McGregor took Alvarez apart to become the only simultaneous 2 weight champion. This motor really does make McGregor stand out, just like he does in the Octagon.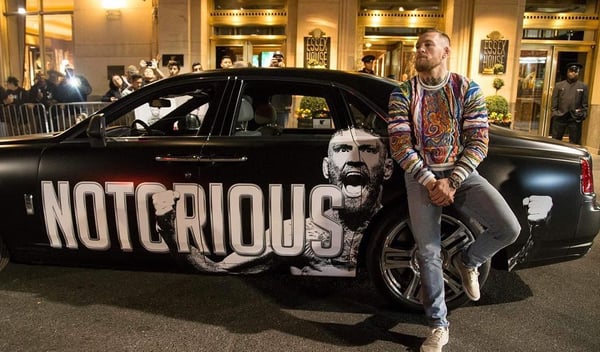 Round-Up
Yes. McGregor does have the most expensive car collection. I mean, we barely touched the surface of his current collection, and had to skip a lot of the cars due to the blog post being too long. When we get to that position in life, we know we have made it 😂
However, Conor started from humble beginnings, and didn't always have this fortune. He actually used financing to get by at the start. Now, if you are looking to get your next car using finance, don't look further than Carmoola. We offer great car financing deals with our super flexible methods. Check out our Calculator here to see how much your car payment will be.
Thanks for reading today, and if you have any recommendations for celebrities that we can write about, let us know in the comments section below! 👍