Lebron James' Car Collection Screams Luxury
What cars does the 6th highest earning NBA player own? Is he into his classic cars, or is the futuristic Tesla more his style? In this article we will be going through his current collection that is believed to tally over £2 million 🤯
James' career earnings total a whopping $600 million, and this naturally comes with an impressive car collection. How does three Ferrari's, 2 Maybach's, a custom Lamborghini and a Rolls Royce sound to you? We genuinely think this guy will pay more at the car wash than some people's car financing deals!
Who is Lebron James?
Lebron James is regarded as one of the best basketball players of all time. The 4 time NBA championship point forward was a prodigy since high school as he excelled and dominated play, just like he does today. If you aren't familiar with him, he is like Cristiano Ronaldo, Marc Marquez or prime Sebastien Vettel. He truly is in our opinion, and we know there is a lot of debate about this, the best all-round player in the history of the NBA. James is a born leader, with an uncanny ability to drive and motivate himself, like the majority of athletes we have looked at in the past.
Lebron James & Cars
The King's car collection is a straight up slam dunk, and he has proven that not only is he a world-class athlete, but he has some serious taste when it comes to his cars. I mean, I know I have made it, when my car matches my shoes. Especially when that car costs $670,000…
Louie La Vie Lamborghini Aventador
When Nike released Lebron's X1 shoe series, the world class athlete unveiled his brand new Lamborghini Aventador with a custom wrap that matches the inside of the shoes. Pretty impressive right? The cars 6.5 litre v12 engine produces 670 BHP and is the most expensive in James' collection. I mean, we find the floral pattern kind of interesting, but you guys can leave your thoughts down in the comment box below. Nevertheless, having the money to match your car with your shoes is next level, and we are thinking of doing the same at Carmoola, so watch out for that! 🤣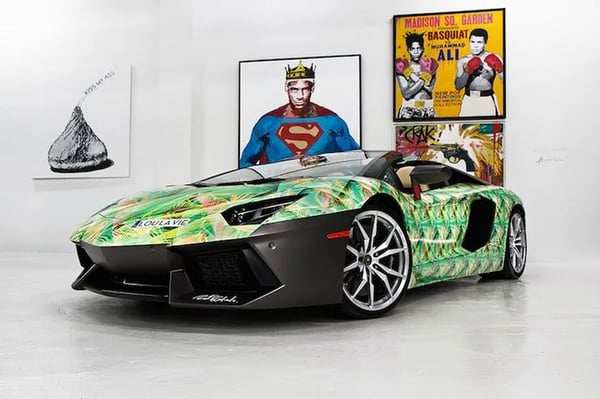 Now, I bet driving a convertible Porsche 911 through L.A and Miami is an absolute dream, but we can't say the same for when Lebron was in Cleveland 🌨. If you guys don't know America, Cleveland is located in North Ohio which is, to sum it up - COLD.
Porsche 911
As mentioned in our Keith Lemon blog, no celebrity car collection would be complete without some kind of Porsche. And Lebron bought this car when he played for the Miami Heat in 2010 with team mate Dwayne Wade. We love the fact that these guys not only partnered up on the court, but off the court as well. Wade owned a white 911, whereas James' was blacked out. I mean, it's pretty easy to see why athletes and celebrities love the 911, it's a great looking car and provides 550 BHP which is more than enough for them to have some fun.
And the interior. The interior is a thing of beauty, and we speak from personal experience here at Carmoola, you really do feel guilty sitting in one if you aren't a multimillionaire, it's simply that nice 🤑. Now, speaking on interiors, this leads us onto the Maybach.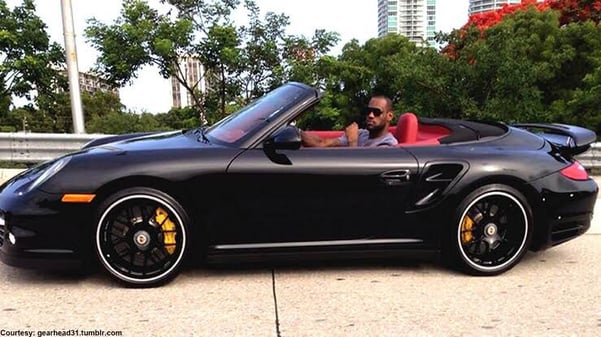 Maybach 57S
We didn't think it would be right to talk about the King's collection without mentioning the Maybach. It really is a thing of beauty. He pays recognition to his home state Ohio with the Mercedes, as the licence plate states 'KNG OF OH'. With Lebron often being hailed as a King, especially in Ohio, it's only right he has the registrations to go with it. Back to the car, and this is definitely our favourite on the list. Lebron's 57S is sporting some serious specs, with it's V12 engine throwing around 670 BHP to power the 2700KG of curb weight it has.
Lebron's fuel bill must be off the charts ⛽. Now, onto our next car, and Lebron James really does know his luxury cars as up next is the Rolls Royce Phantom.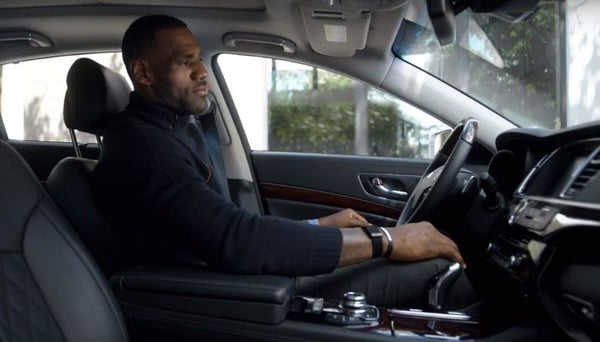 Rolls Royce Phantom
James will not look out of place in Hollywood in the Phantom, and it's a staple in any celebrity luxury car collection. Now how much did Lebron drop on this? $0. Yes you did read that right the $400,000 car was gifted to him on his 25th birthday by Shaquille O'Neal, the former Lakers Centre. The car just screams luxury, from the Rolls Royce champagne chest to the interior roof lights that replicate the night sky. Again, not the best fuel consumption in the world, you can read our blog on those here. But, as an NBA superstar, what else are you going to spend all your money on? You may as well ride around in style.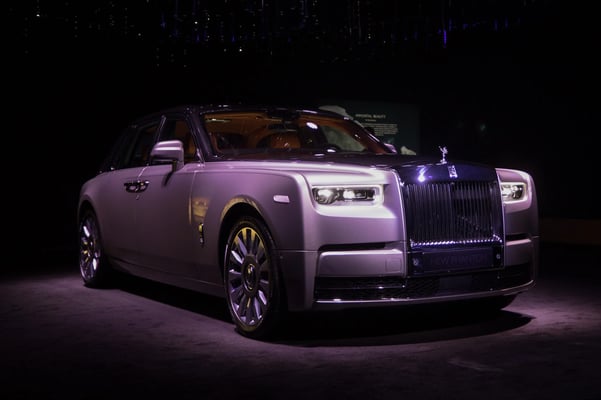 But enough about cruising around town, let's move onto fast cars, and move around Europe to Italy, where Lebron's Ferrari's were crafted.
Lebron's Ferrari Collection
Lebron is pictured a lot in this car, so we can only assume that this is his daily driver. It features a 480 horsepower V8 engine that is custom built to fit his NBA sized frame inside. We personally prefer some of his other Ferrari's, but as a daily driver the F430 isn't bad.
Inside his garage, a red 599 is hiding, which will cost you around $200,000. Again, this is completely specced out, and offers ballistic performance for the driver. Only the best for the King. Next to the 599, you will find a drop-top 458 Italia Spider as well, the second Spider in Lebron's Ferrari collection. He dropped $245,000 on this car, and that rounds up James' slick and expensive Ferrari collection.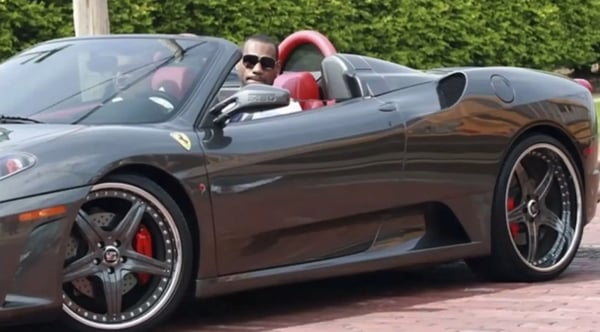 Takeaway
As the title states, Lebron's car collection screams luxury. With a career income of around $600 million, we expected it to be impressive, but we couldn't actually fit all the cars on our blog post today 🚘. If you love luxury cars, then we recommend that you take a look at our other celebrity blog posts, especially the one with Rowan Atkinson, where we go through his crazy car collection (worth more than Lebron's…)
We get it. £2 million splashed on cars is crazy. That is why we help people like yourself to afford their dream cars by splitting it into monthly payments. Check out our How It Works page, and get a budget for your next car in minutes.