Barcelona Football Players and Their Cars
There is a lot of speculation around footballers' salaries, and an argument is often made that they are heavily overpaid. These days, wherever you find a footballer, you can be sure a high-end sports car or luxury saloon isn't too far away.
This couldn't be more accurate for the FC Barcelona team. Their class on the pitch is definitely reflected in their car collection, the Camp Nou car park looks like a luxury car dealership, everything from Audi RS6s to Cupras. Let's dive into the players' cars.
The FC Barcelona Football Team
FC Barcelona, as you guessed it, play out of the city of Barcelona, and currently compete in the top flight of Spanish football - La Liga. Barcelona is one of the most widely supported teams in the world, and the club has one of the largest social media followings in the world among sports teams. This support was largely down to the great players that have graced the Camp Nou (stadium), combined with the loyal members who are there week in and week out.
At the moment, with the loss of Lionel Messi, the Barcelona team are going through a 'rebuild' with a lot of young players coming in, such as Ansu Fati and Pedri. These guys can seriously splash out, as we will be looking at now…
Gerard Pique
Gerard Piqué has been, and still is a stalwart for Barcelona. The centre-back was recently spotted with his stunning Audi RS 6 Avant Daytona, as a result of the lucrative relationship between Barcelona & Audi. However, when he needs to get around Barcelona's low-emission zones, he likes to go with the Cayenne E-Hybrid Coupe. The hybrid has a powerful engine and a powerful battery, which can work together or individually. The electric-only capacity enables it to run for up to 48 kilometres without using any petrol, which is super impressive.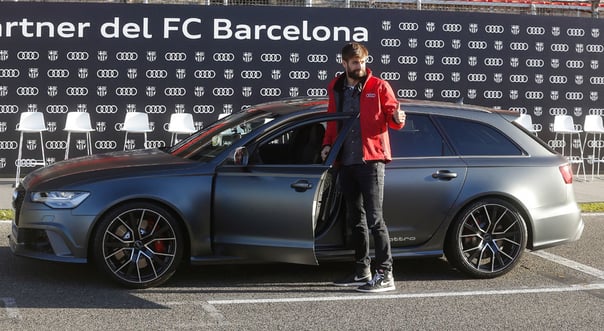 Jordi Alba
Surprisingly, Alba only just passed his driving test in 2020. His first car? The Audi Q7 Sepang. Better than the rusty Corsa most of us get! The Sepang is a beauty of a vehicle, with the famous Audi Quattro technology and a host of other extras that customises the vehicle exactly to your liking. Below is the photo where he received the car from Audi at the announcement of their partnership with Barcelona. We would be happy too Jordi! ⚽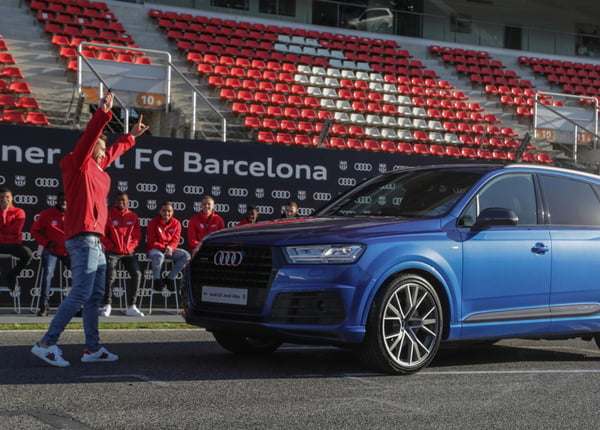 Sergi Roberto
Yes - another Audi. Again, as part of the sponsorship of Barcelona, the players did all receive gifts. Sergi's was an Audi RS3 Sportback Catalunya, coming in at a cool £56,000 (and that was one of the cheap ones!). Don't worry we have diversified our list more than the Audi's so continue reading to see what Ansu Fati drives! Pictured below is Roberto looking very contemptuous with his present…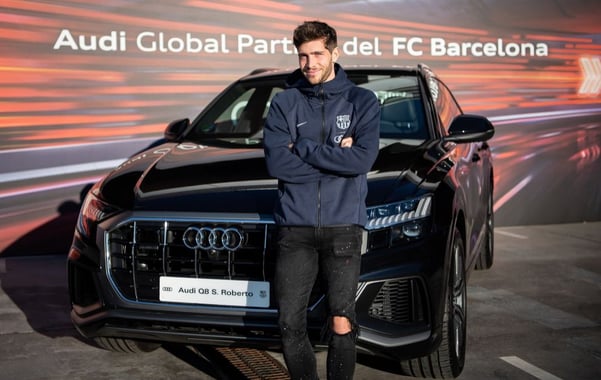 Frenkie de Jong
As one of Barcelona's recent signings, Frenkie de Jong didn't manage to get his hands on a free Audi. However, the £18 million yearly salary did manage to cover the purchase of his Porsche Cayenne. Frenkie - unlucky, but not a bad fallback right? 🤣
Ansu Fati
Another player who just didn't quite manage to get his hands on an Audi is Ansu Fati. The 19-year-old forward made a name for himself on the pitch with his high quality performances, and this then translated to off the pitch when brands wanted to associate themselves with him. He was handed the keys to a brand new Cupra Formentor, but it was a while before he could actually go ahead and take it for a spin. Again, he has only just passed his driving test, congratulations Ansu!!
Takeaway
Those were really cool cars, right? If you also enjoy tennis, you might want to check out Novak Djokovic's car collection!
Don't have a superstar athlete's salary? Most of us don't sadly! 😑 That's why here at Carmoola we offer great car financing packages for people like yourself. 91% of car buyers use finance to purchase their vehicle, so you are not alone.
Knowing what to expect before you go head on into a car financing deal is so important, and here at Carmoola, we want to provide you with as much information as possible, so you can make an informed decision.
That's why we have tools like our calculator, where you can see in a matter of minutes what you might be paying on a monthly basis. Click the link to see now, so you can start out on your next car buying journey..... 🚘