What Range Can an Electric Mercedes Do?
Mercedes has its own lineup of all-electric cars for drivers who are looking for more eco-friendly vehicles. 🍃 The EQA, EQB, and EQC from Mercedes are among the top-selling EVs in the market today. If you're looking for a great electric car with a long-range electric car battery, these EVs produced by Mercedes are certainly ones you can consider buying. Are you eager to find out the range of an electric Mercedes car? Let's dive in and check it out!
Mercedes EQA: 264 Miles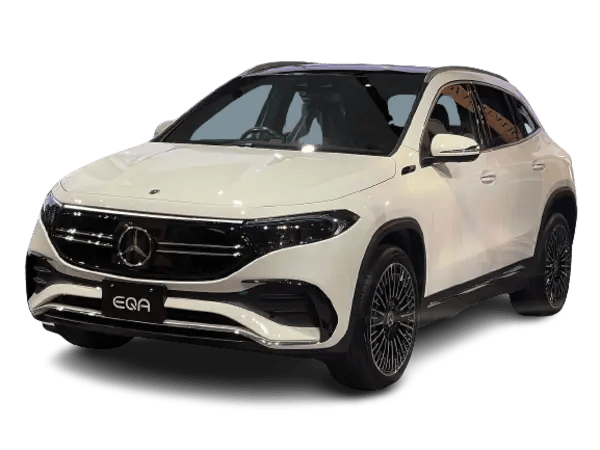 The EQA is a small upmarket SUV from Mercedes, known for its outstanding refinement and quality. Inside the car, you can expect first-rate comfort, along with all the essential infotainment features and tech systems that you'd look for in a modern vehicle. The Mercedes EQA's competitors include the Volkswagen ID.4 and Ford Mustang Mach-E. It has a 66.5kWh battery and three power outputs to choose from — 187bhp, 225bhp, and 228bhp. The fastest version of the EQA can go from zero to 62mph in just six seconds.
The Mercedes EQA has a 264-mile range on a single charge. While this is the figure that Mercedes claims, the actual range can be affected by several factors like vehicle load, driving style, as well as weather variations. But don't worry that the EQA won't be able to take you to your destination. Range anxiety on this electric car won't be an issue. Besides, with a growing number of rapid chargers all over the UK nowadays, you can easily take a short break from driving and enjoy a cup of tea or coffee while your car is plugged in.
Mercedes EQB: 257 Miles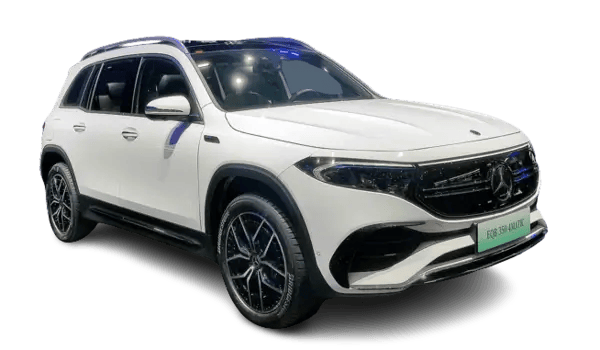 Mercedes is making an effort to produce electric versions of their combustion-engine models, one of which is the seven-seater family SUV, the EQB. This electric vehicle is based on the diesel and petrol-powered GLB models. Visually, the EQB and GLB are almost identical, though you might notice that the electric version also has similarities with the G-Wagon when it comes to its style and high roofline. Of course, the EQB is a different car altogether because it runs on electricity completely.
With a 66.5kWh battery and two electric motors that provide 4MATIC all-wheel drive, you can choose two EQB models. The EQB 300 has 225bhp, while the EQB 350 has 288bhp. Both models have 370Nm of torque, so you can be sure that this family SUV from Mercedes is quick and powerful from a standstill. The 300 can go from zero to 62mph in 7.7 seconds, and the 350 can achieve the same in just six seconds. As for range, the more powerful model can reach 257 miles on a single charge. When it comes to charging the EQB, it can get to 80% in half an hour if you use a 100kW rapid charger.
Mercedes EQC: 255 Miles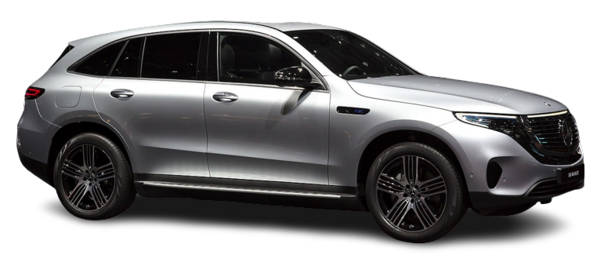 For a mid-sized SUV, Mercedes offers the EQC, the first mainstream all-electric vehicle it produced. This model was based on the conventional combustion-engine counterpart, the GLC. The interior of the EQC is not as spacious compared to similar models from other car manufacturers, like the Audi e-tron. It is also quite heavier at two and a half tonnes, which may affect your driving experience. Nonetheless, the EQC is still a fast car with a good range. It's great for city driving and also for long journeys in the countryside.
This five-door SUV has an 80kWh battery and an electric motor for each axle. Its total output is 403bhp and an enormous torque of 760Nm. You'd definitely feel this instantly as soon as you press on the accelerator. It can reach 62mph from zero in just 5.1 seconds, plus its range can take you to 255 miles before you need to plug it in. The EQC can be on the pricier side, but with all its features, tech, and reliability, it's actually a practical electric car.
Maximum Range of Electric Cars
Many car manufacturers have already produced their line-up of EVs to answer the ever-increasing demand of a more environmentally-conscious market. So what is the best electric car battery range? When it comes to the range of EVs, we can only expect it to improve as electric car technology advances continually so the answer to that question is changing constantly. Are you curious to know what's the longest range electric car? Here are two of the cars from Mercedes with a long range electric car battery - amongst the best battery range of EVs on the market so far.
Mercedes EQS: 485 Miles
The all-electric version of the Mercedes S-Class saloon is the EQS. It has a huge 107.8kWh battery that beats Tesla's Model S range. However, in terms of acceleration, the Model S is faster than the EQS.
Mercedes EQE: 410 Miles
The EQE uses the EVA2 platform, similar to the EQS. Its battery is smaller, though, at 90kWh. With its single motor, it can produce 288bhp and 530Nm of torque. With a range of 410 miles, it will take a while before you'd need to stop to charge the car. And to reach 80%, you only have to wait for half an hour.
Takeaway
It's clear that Mercedes is one of the best car manufacturers, especially when it comes to producing all-electric cars with outstanding range. While Mercedes EVs are not exactly the most affordable ones on the market, they're definitely worth the money you'd pay to have them! 😍
If you are thinking of changing up to an electric vehicle there are some great used car deals on the market. Check out what you could potentially afford to borrow using our car finance calculator. Or simply download Carmoola (click the pink icon at the top) and just answer a few questions - in less that 60 seconds you will know what you are able to borrow. Application is all in-app too, and it's reassuring to know that we have a real person on the end of line if you need us. We are revolutionary way to get hassle-free car finance in a few clicks - 24/7!