Britain's Most Scenic and Beautiful Drives
When you're driving along UK motorways it can feel a bit like the view is nothing but concrete, cows and sheep. But everything changes once you get into the towns and rural areas of Britain. It's full of beautiful sights that make for a great scenic drive, and we've put together a list of the most eye-catching areas when you're darting around the UK.
North Coast 500, Scotland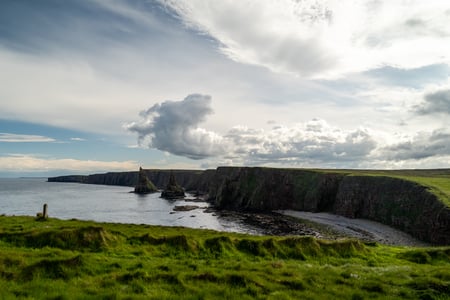 Often referred to as the UK's answer to Route 66 in the United States, North Coast 500 begins and ends in the northern city of Inverness and covers the west coast to Applecross, plus Ullapool. It features 500 miles (the name gives it away, right?) of beautiful beaches with white sands and blue waters, charming villages, and historic castles all rolled into one epic road trip across Scotland.
Military Road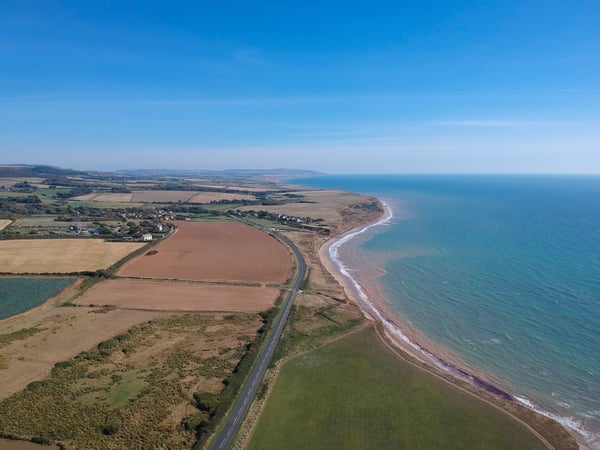 The Isle of Wight is a somewhat forgotten part of the UK, but it's a fantastic place to visit for scenic drives. Military Road runs parallel with the Isle's west coast and dates back to the mid-18th century when you had to enjoy it on horseback. It's was named Military Road because it formed key parts of the island's military infrastructure back in the day. Today it lasts for just 11 miles and offers drivers sweeping ocean views and delightful country landscapes.
Hardknott Pass, the Lake District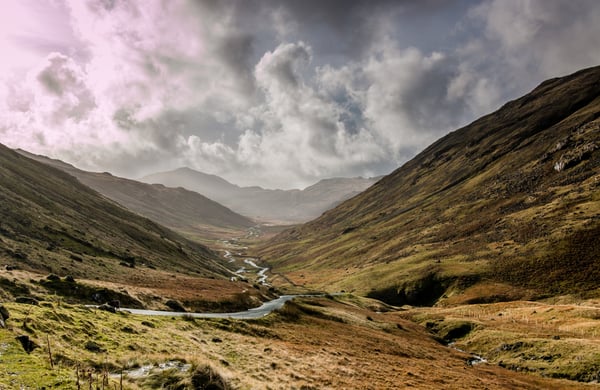 A drive to Hardknott Pass is only recommended if you consider yourself an expert behind the wheel – there are even warning signs at the entry of the road. But once you're on it, you can expect heady views of the Lake District that will make you want to whip out your camera and take a few pictures. Just make sure you don't snap and drive at the same time on this challenging road.
The Coastal Way, Wales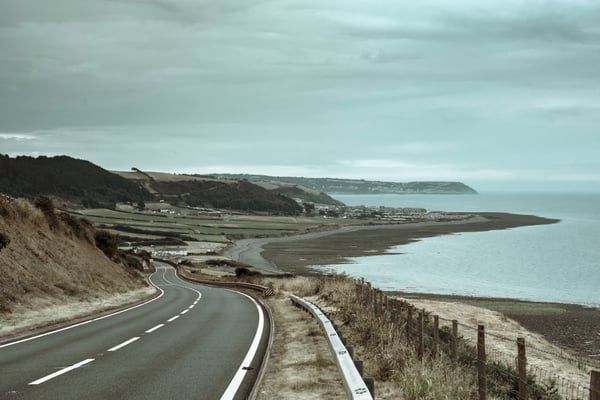 Journey from Aberdaron on the Llyn Peninsula to St David's, Wales' smallest city, as you embark on The Coastal Way. Along the route you'll see quaint fishing villages, charming cottages, and the odd award-winning restaurant you can stop off at for a bite to eat. Once you hit the Llyn Peninsula, expect to see beaches dolphins at New Quay, plus some rolling mountains just to add a dramatic effect to this breathtaking drive.
Cliff Road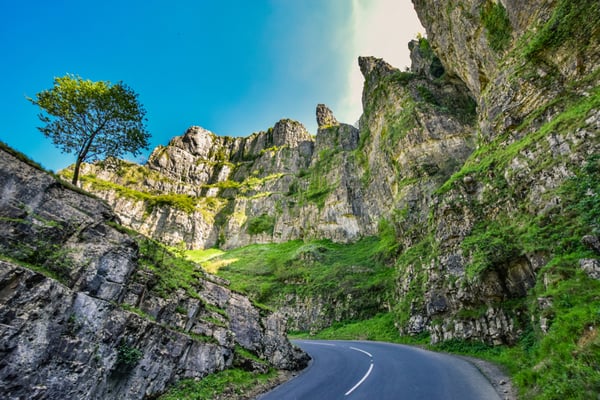 If you fancy driving through an Area of Outstanding Beauty, then get going on the Cheddar to Ashwick route. It twists its way through cliffs and a gorge in central Somerset before arriving at Cheddar, a village well known for its cheese. End your drive in Ashwick, a quiet village and great place to relax after your scenic drive to England's West Country.
The Sussex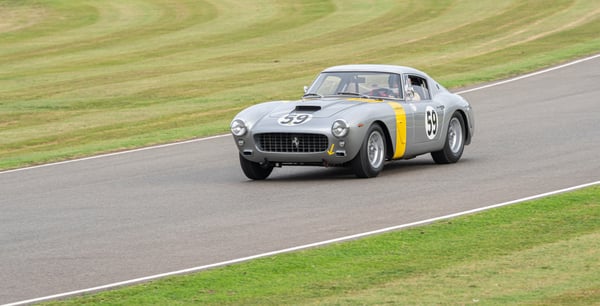 Take in the sights of Sussex by starting off in the harbour town of Bosham before heading north to Goodwood Motor Circuit. From here you will pick up the A286 west and drive past Midhurst, a delightful village, before passing the meadows on the way to the cathedral city of Winchester. Other spots along this drive include Castle Combe, a village used in the Doctor Dolittle film, as well as a historic racing circuit.
Cat and Fiddle, Peak District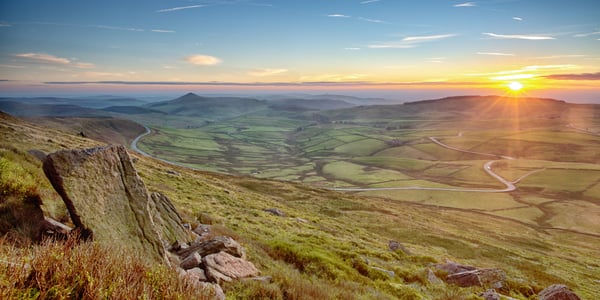 Other than having a great name, the Cat and Fiddle is one of Britain's most scenic drives and takes its name from a rustic country pub that's the second largest watering hole in the UK. The route is full of bends, which makes it popular with motorcyclists. But whatever vehicle you choose, you can soak up lovely views over Greater Manchester, the Cheshire Plain and the Peak District National Park. There's also a two-million year old natural limestone cave to admire along the route.
Alnmouth to Lindisfarne
Get ready for a spectacular drive along the Northumberland Coast with a route from Alnmouth to Lindisfarne Nature Reserve. It follows the shoreline, so you can take in some spectacular views of the North Sea. There's also castles along the way, including Bamburgh Castle. Once you reach Lindisfarne, you can enjoy an Area of Outstanding Natural Beauty.
Wild and coastal Devon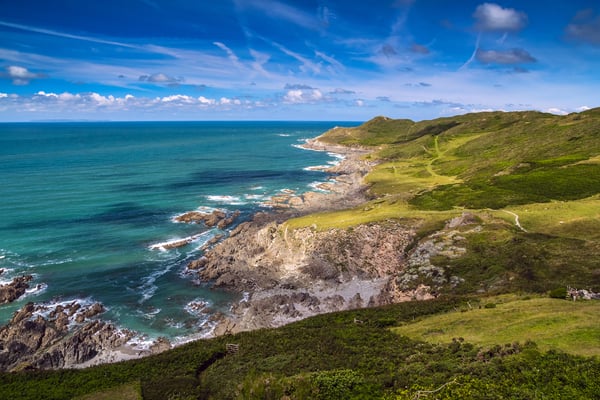 Devon is one of the most beautiful areas in the UK, so it won't come as a surprise to learn that it's made our list. Expect a combination of sheltered coastal bays, craggy cliffs leading to the sea and remote areas across all 120 miles of this trip. Take in picturesque piers, historic harbours and rows of colourful beach huts with the sea flowing gently in the background.
Ribblehead Viaduct, North Yorkshire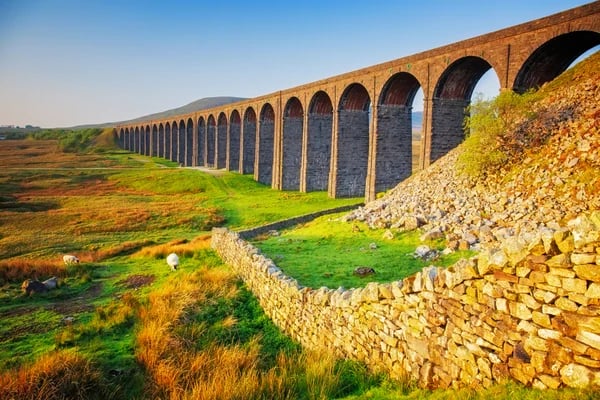 Prepare for undulating terrain as you drive across the Ribblehead Viaduct in North Yorkshire. There's loads of rolling countryside to admire, plus the viaduct itself, which is a 400m bridge featuring 24 stone arches.
Britain's most scenic drives
If you're looking for a peaceful drive around Britain, then you can't go wrong with the options on our list. Pick any destination and enjoy beautiful sights, from the countryside to the coast. The UK is certainly one of the best places in the world to enjoy a scenic drive.