What Are the Supercars of The Rich and Famous?
Fast life, fast cars. That's the deal for the rich and famous, who love nothing more than splurging their vast sums of money on supercar after supercar. And while we mere mortals might not have the resources to get behind the wheel of a Ferrari or Bentley, we can certainly dream – and create a list of the best supercars driven by the rich and famous. So read on to find out what anybody who's anybody is driving.
Aston Martin Valkyrie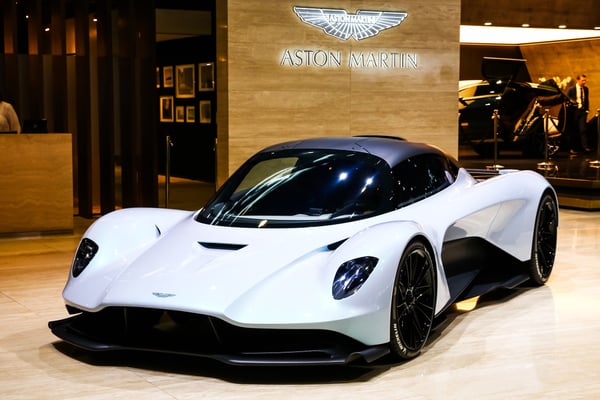 Aston Martin and Red Bull got together to create the Valkyrie, a supercar powered by a 6.5-litre Cosworth V12 that produces 1,160bhp. There are only 100-or-so road-legal models, and they cost around £2.4 million – they're pretty expensive. So you need to be very rich indeed to own this beast.
Koenigsegg Agera RS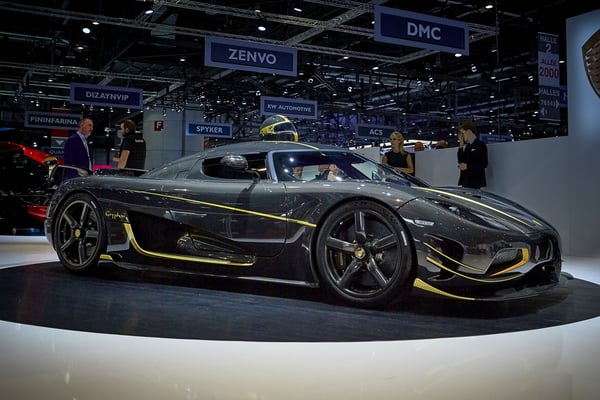 If you want to let people know that you've got cash to flash, then get yourself a Koenigsegg Agera RS. This supercar broke multiple world records, including the highest speed ever recorded on a public road. The car costs about £1.1m, but you'll also need to have some serious connections to get one as there are only 25 models available.
Bentley GT Continental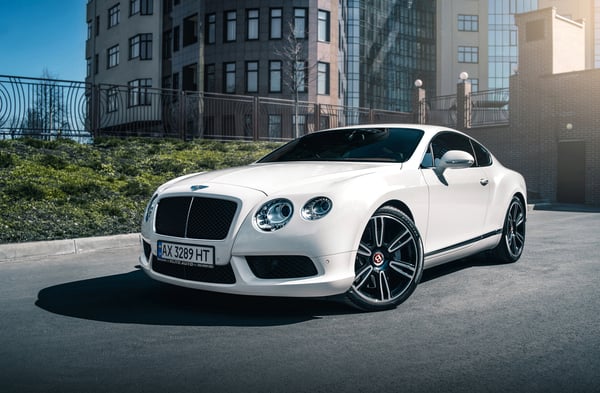 At a mere £160k, the Bentley GT Continental seems almost cheap in comparison to the previous entries. The car was previously driven by celebrity heavyweights like erm, Paris Hilton back in 2008 when she was known for getting it covered in pink with a custom paint job. The model still holds up today, mind, and there are plenty of rich and famous people with a Bentley GT Continental in their garage.
Maserati GranTurismo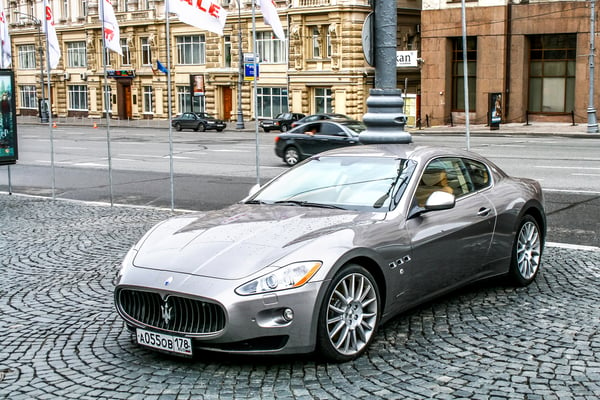 It's Britney, bitch, and she's driving a Maserati GranTurismo. Well, at least she was before her pops took all the cash. Back in 2015, the Queen of Pop was known to drive a Maserati GranTurismo. The Italian supercar features an eight-cylinder 4.7-litre V8 engine and looks incredibly stylish on the road.
Bugatti Veyron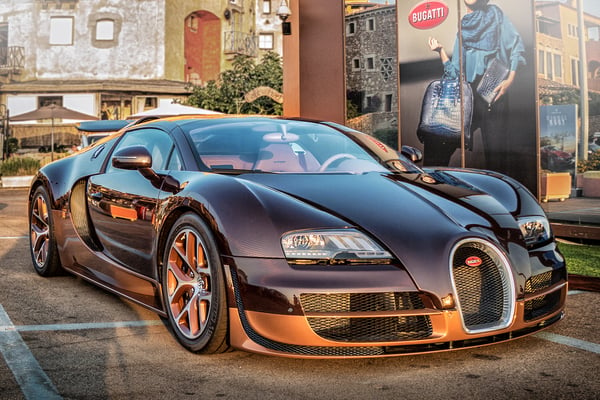 A favourite with footballers, the Bugatti Veyron does 265 mph-plus and has 1,000bhp. As far as snazzy cars go, this one looks like it came from out of space. And for £2m, the price is out of this world too. Still, that hasn't deterred those with money to burn from having a set of keys to what is a very luxurious car.
Ferrari LaFerrari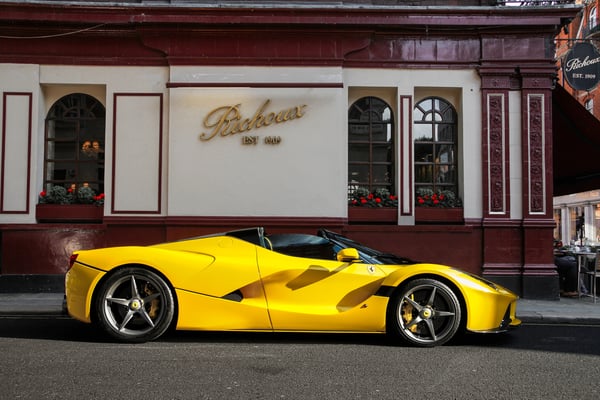 If you're rich and famous and you don't have a Ferrari LaFerrari, are you even really rich and famous? This is a car that exudes style and has the performance chops to match the looks. The Ferrari LaFerrari does 217 mph and can go from 0-60 mph in 2.4 seconds. It takes us longer than that to get up from the sofa.
Maybach 57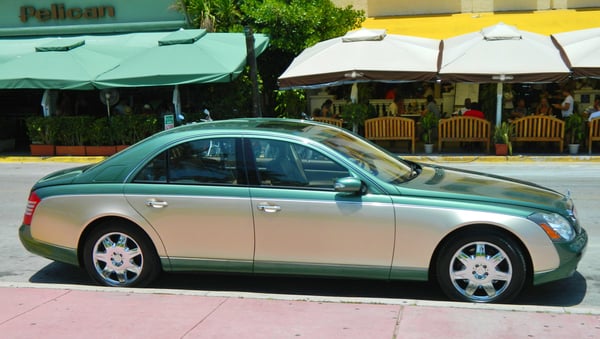 Listen to any Rick Ross song, and it's only a matter of time before the US rapper mentions a Maybach. It's safe to say that he's enamoured with this supercar, going as far as naming his record label "Maybach Music Group". Therefore, it makes sense that he owns a few, with the Maybach 57 his first ever car from the manufacturer. With 620 bhp, it's not a bad model to start your collection.
Lamborghini Aventador Coupe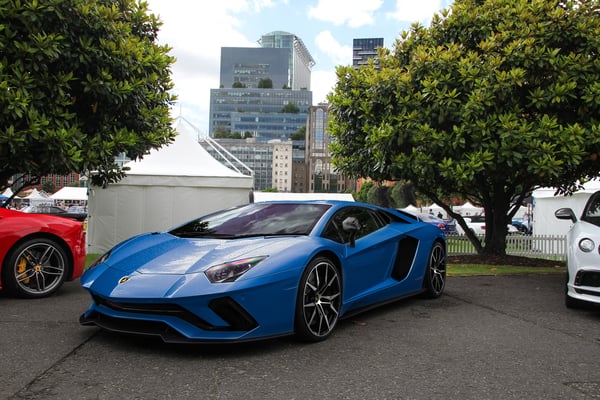 Everyone and their gran loves Justin Bieber. The pop crooner's been winning us over ever since he burst on the scene as a teenager singing songs with the word "baby" in them – like, how many times do you want to say "baby", dude? Now he's all grown up and driving a Lamborghini Aventador Coupe. Bieber's version is custom-made, so expect to pay more if you want his particular version. Still, if you've got £250k lying around, you could just buy the standard entry-level version.
1976 Lotus Esprit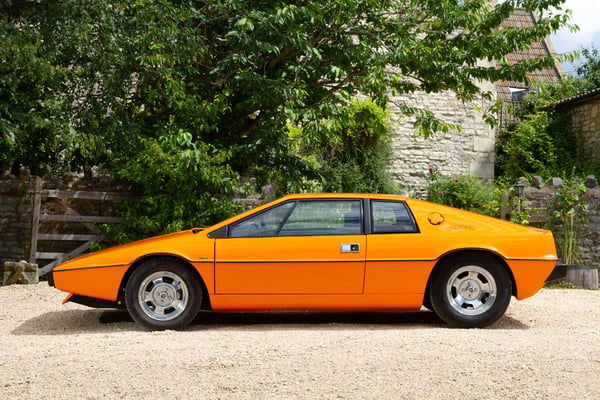 So it turns out that Elon Musk doesn't drive a Tesla, with the multi-billionaire opting for a 1976 Lotus Esprit as his prized possession. Made famous in a 1977 James Bond movie, "The Spy Who Loved Me", the 1976 Lotus Esprit cost Elon just under $1m at a blind auction. Apparently, he used it as inspiration for that weird Tesla Cybertruck thingy.
Rolls-Royce Sweptail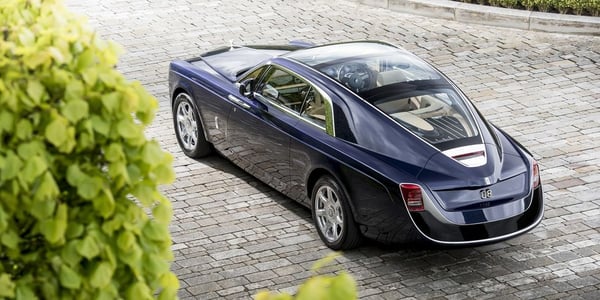 A one-off car, the Rolls-Royce Sweptail was commissioned by an anonymous buyer in 2013. Now, if you're commissioning one-off models, then we think it's safe to say that you have all the cash. This unique vehicle has a 6.75-litre V12 under the hood and a centre console for a bottle of champagne. Because if you're spending close to £10m on a car, the least it can do is produce champagne on tap.
Supercars for the rich and famous
While most of us are happy to get to get a Golf or One Series when it comes to higher-priced cars, the rich and famous are out there buying classics, getting one-offs built and customising their vehicles. It's a good life if you can get it. Now, if you don't mind us, we're off to drive look at pictures of a Ferrari LaFerrari on Google.